If you're going to fail, fail BIG. That's what I did today in our Test Kitchen and I'm proud of it! I learned a thing or two along the way, and I want to share my knowledge with you! Don't try this recipe at home, but come along on this egg journey with me and learn what to do better:
As the editor of AllFreeSlowCookerRecipes.com, I am always up for a good slow cooker challenge, and I love to push the boundaries of what can be made in the slow cooker. However, not every single dish is a winner. I'd seen a recipe online for slow cooker hard boiled eggs, cooked oven-style. What does that mean? The eggs are cooked without water in the slow cooker, much like one would do in his or her oven. With Easter coming up this month, I thought, "What better time than to experiment with slow cooker hard boiled eggs?" When decorating Easter eggs, it's helpful to find methods to cook hard boiled eggs in bulk.
There are many recipes on the Web for how to make perfect hard boiled eggs in the oven. These recipes are cooked dry, by either laying the eggs on an oven rack, or by placing them in muffin tin slots. I applied a similar concept by slow cooking hard boiled eggs without water in my slow cooker.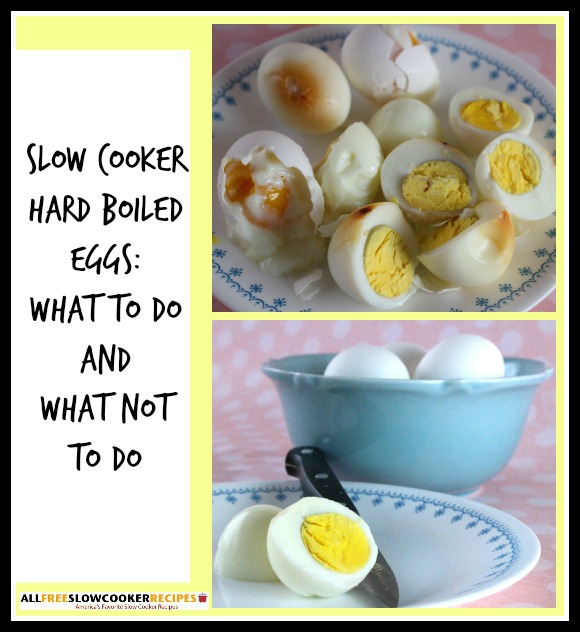 Slow Cooker Hard Boiled Eggs — Oven-Style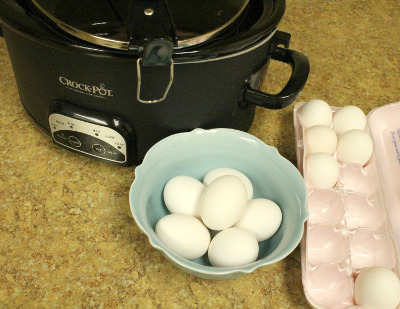 I placed a dozen eggs in the slow cooker, covered them, and cooked them on HIGH for two hours.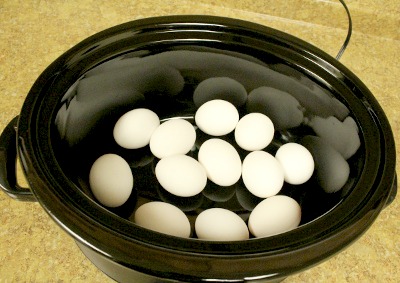 After two hours, I removed the lid, and some of the eggs were browned on their sides. The eggs nearest the outside edges were browned more. Some were browned on the bottom.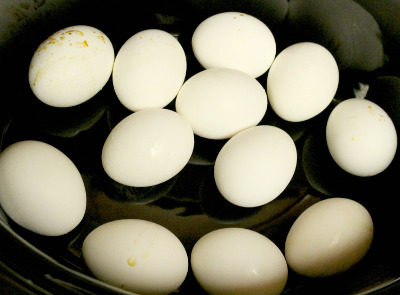 When the eggs were done cooking, I placed them in a bowl with cool water and ice. Cooling off the eggs before peeling makes them easier to handle, and helps loosen the eggs from their shells for peeling.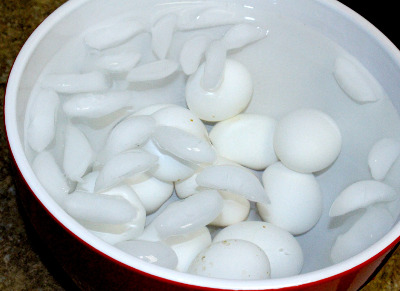 When it came to actually peeling the eggs, I ran into some trouble.  All the eggs were not cooked evenly. It appeared the eggs with more brown on their shells were cooked more thoroughly. Most had solid yolks, and some were even over-cooked, with yolks that were slightly green or gray. The browning on the shells also transferred to the hard egg whites as well.  Others, were nearly impossible to peel and ranged from soft to runny.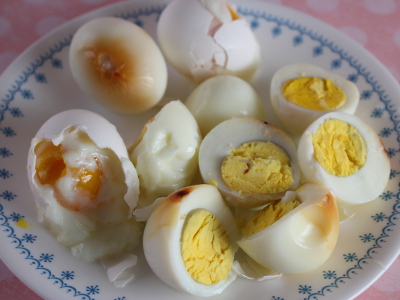 I had about one egg that appeared to be cooked properly.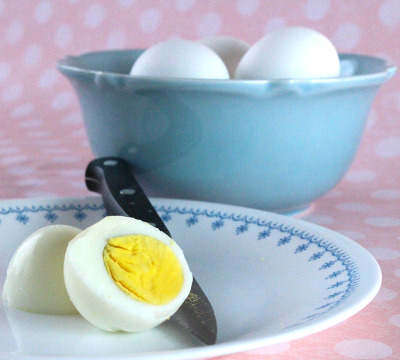 By nature, many inserts in slow cookers cook somewhat unevenly. They aren't perfect and most slow cookers will have hot and cool spots. If you've had your slow cooker long enough, you might account for where these spots are, and rotate your crock during cooking. Also, some eggs had side exposure, while others didn't, which added heat and even browned some of them. Others remained in the middle, and were only heated from the bottom up. To avoid uneven heating and account for hot spots in your crock, you might move the eggs' positions and turned them over every 30 minutes during cooking–that's if  you choose to continue using the "oven method" with your slow cooker without any water.
However, I suggest actually using water when slow cooking hard boiled eggs, should you choose to accept this mission. A "water bath" in your slow cooker will help to cook the eggs evenly. I also think you might need more than two hours to cook them. Here's a blogger recipe on AllFreeSlowCookerRecipes for Slow Cooker Hard Boiled Eggs to try that does include water.
Also, if you want to revert to the good, old-fashioned stove-top method, check out this guide from RecipeLion.com, How to Boil Perfect Eggs.
What difficulties have you found when trying to make perfect boiled eggs?
Latest posts by AllFreeSlowCookerRecipes
(see all)