If an old-fashioned recipe has been around this long, there's probably a good reason for it! Some vintage recipes are worth holding on to, even if they're scribbled on old, stained recipe cards stacked in a cabinet. Every time you make a vintage recipe, it's like you're time traveling to your childhood. Grandma's and mom's recipes are just too good to give up!
Even if you don't have a stack of old recipe cards to reference, you should make sure you have the basics covered. The 1940s, 1950s, and 1960s were the hey-day of the American family dinner, with real home-cooking. Not only are the meals that Mom used to make delicious, but they're also full of great memories.
Many recipes were adapted from old farmhouse meals or created for new-fangled kitchen appliances like the slow cooker. Brands like Pillsbury, Betty Crocker, and fast-food giants set the food trends, and home-cooks everywhere developed a standard menu of family-favorite recipes like mac n' cheese, beef dishes, and the best desserts in the world.
Here's our collection of old-fashioned recipes from the best eras of American food! Not only are they delicious, but it's fun to learn about our culinary history, too.
25+ Old Fashioned Recipes from the 40s, 50s, and 60s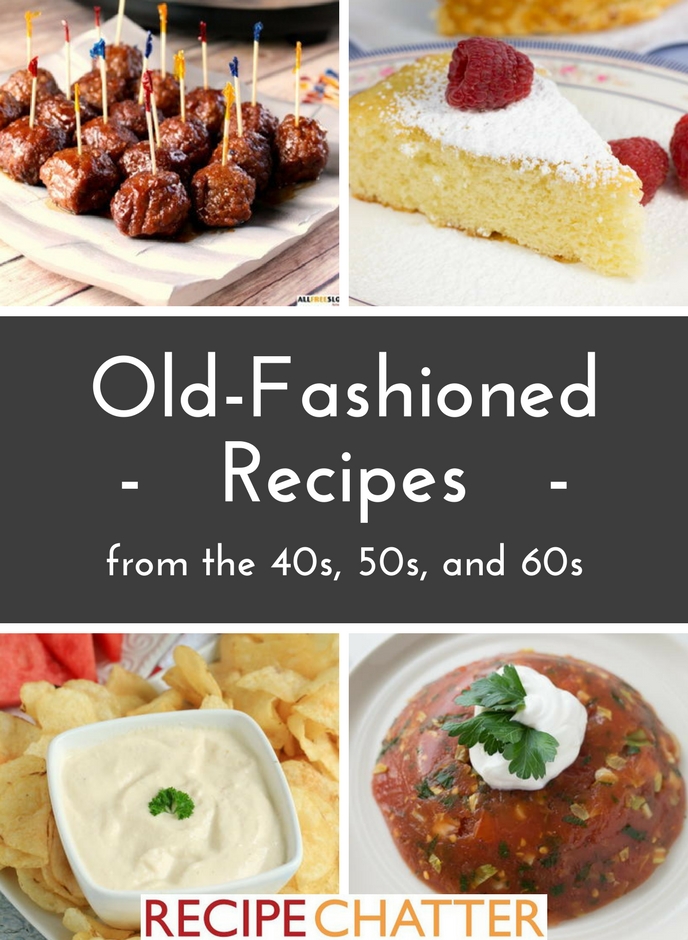 Recipes from the 40s
In the 1940s, cooks had to get creative with many ingredients unavailable or rationed. It was the time of Jell-O salads and other recipes that incorporated new products like M&Ms and Cheerios. Betty Crocker hit the scene and became very popular. Many recipes used fresh veggies from victory gardens, as well—jarring preserves was a common activity. Conservative recipes from the Great Depression lingered. The slow cooker was invented in 1940, changing American cooking forever.
Recipes from the 50s
The 1950s saw the birth of many fast-food giants including McDonald's and KFC. Ground beef was a popular ingredient. Healthiness wasn't a concern, which meant savory dishes loaded up on flavorful ingredients. Jell-O salads were still popular and expanded to include meat and vegetable flavors. Cars became a huge part of culture with drive-in theaters and restaurants at the peak of popularity. Popular TV shows influenced American families' dinner rituals, too. Psst, Elvis fans: check out 12 Down Home Recipes Elvis Would Love.
Recipes from the 60s
The 60s were all about appetizers! Recipes from the 1960s were also all about shortcuts like easy dips, and yes, Jell-O salads still reigned. In the era of home entertaining, hors d'oeuvres (and easy ones) were essential. Crescent roll recipes are another example of shortcut recipes that took off. Party foods and appetizers became an area of competition between neighbors. Cocktail recipes were all the rage. Bundt cakes ruled the scene after the 1963 Pillsbury Bake-Off. For a taste of the south in the 60s, check out 8 Southern Recipes Johnny Cash Would Love.
What's your favorite old-fashioned recipe?
Let us know in the comments!
Latest posts by RecipeLion
(see all)