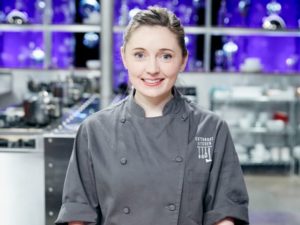 Fans of RecipeLion's Test Kitchen might recognize our lovely chef Adia Benson. If she looked familiar, it's because you saw Adia rolling up her sleeves on Food Network's Cutthroat Kitchen. In fact, she won Cutthroat Kitchen's 12th episode.
Adia (we call her Addie!) made her celebrity chef debut while working for Daniel Boulud, Thomas Keller, and her mentor Martha Stewart. She'll take on 15 other previous Cutthroat Kitchen winners in the newest season, which airs Wednesday, June 15 on Food Network.
If you have any doubts about the intensity of the competition, just know that these battles are so legendary they will transcend time! This season's theme is 'Time Warp,' and Food Network is excited to take you on a journey through eras of food.
"Decade by decade, starting with the '50s, Alton will shine a light on the eats, drinks, culture . . .  of the second half of the 20th century in ways that only he can. From the golden era of rock 'n' roll to the first walk on the moon to the dawn of the beloved VHS tape, chefs' assigned dishes and the accompanying sabotages will be inspired by the years' defining moments and tastes. Over the course of four preliminary heats and a grand finale battle, 16 chefs will face all the pressures of a modern Cutthroat Kitchen contest, but in a setting that's anything but contemporary." – Food Network
We checked in with Addie when she was between making her fabulous Test Kitchen recipes to dish about the experience.
How did this compare to your last experience on Cutthroat Kitchen?
As my second time on the show, the little things were not as much of a surprise, which made everything a bit more comfortable, yet the minute you think you know what may be coming next – you're wrong!
What was it like meeting the other Cutthroat Kitchen winners?
It's intimidating meeting the other winners, because going into a show like this as a winner you have a sense of pride and accomplishment and do not want to lose, but everyone feels this way. As a novice, you all do your best to win, but as winners – you are all a bit more competitive and cutthroat.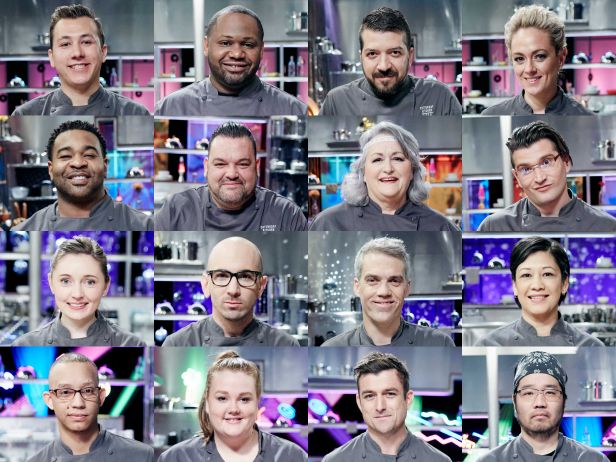 What was your strategy going in?
My strategy was to stay calm. There is very little that you can control when you enter into a competition like this and so the only thing you really can control are your nerves! Of course that's easier said than done in this type of situation, but I knew going in that if I could stay calm, and not get anxious or nervous, then I could perform to the best of my ability in a crazy situation.
The theme this season is 'Time Warp' – What's your favorite culinary era?
The 1960's is my favorite culinary era. Post-war rationing became a distant memory, casseroles became old and boring, don't get me wrong I love casseroles, but the 60s encouraged prettier, more complex food. With French influence from role model of mine, Julia Child, and elegant influence from another role model, Jacqueline Kennedy parties were bit more glamorous and suburban devotion including backyard barbecues, fondues gathering everyone around a table, and cocktail parties were booming.
To me, this was the decade that took a 1950's casserole making home to a more modern, adventurous and elegant place. My culinary point of view and expertise is Easy Elegant Entertaining. I feel that this decade embraced and celebrated what I do today.
I however, was placed in the 1970's during the time warp. Not too familiar with the era, nor am I as groovy as I would like to be, it was a challenge!
Did you learn any new skills or tricks this time around?
All I can say is tune in to watch, there were quite a few first times for me 🙂
—
Watch or record the premiere episode June 15 to see our amazing Test Kitchen chef battling it out with other culinary experts. We couldn't be more proud of her! (P.S. You can always see what she's up to at her blog, Addie's Confetti Kitchen.)
Follow Addie on Instagram, Twitter, Facebook and Pinterest for behind the scenes in our Test Kitchen and more.
Bonus: Watch Addie give a tour of our new Test Kitchen!
Will you be watching?
Latest posts by RecipeLion
(see all)