Oh, yeah…you're reading this correctly. You won't find this anywhere else but in our cookbook, Everyday Dinner Ideas: 103 Easy Recipes for Chicken, Pasta, and Other Dishes Everyone Will Love. You can get your own copy of this extraordinarily delicious cookbook via Amazon or Barnes and Noble today!
Now, back to the deliciousness. We're sharing an exclusive recipe—one that already has my mouth watering…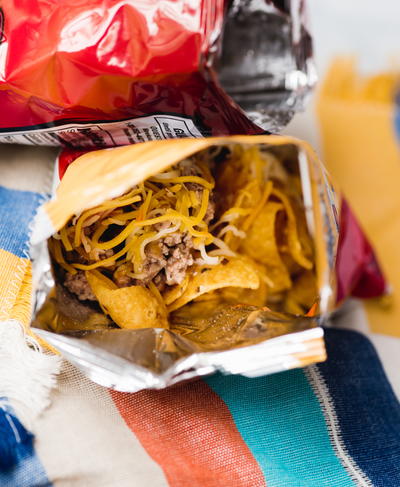 This is the most heavenly combination of two of my favorite foods: bacon cheeseburgers and tacos. Have you ever heard of a walking taco before? This was a totally new concept to me (one I learned a few years ago). You stuff a Fritos bag with the best of the best taco ingredients and munch away. How amazing is that? Today, we are sharing the incredible twist on a classic dish that Addie Gundry beautifully created in Everyday Dinner Recipes.
From the chef herself, she says: "Rushing home from school, only to head out to football or basketball games, kids often need something to grab and go. Toss these ingredients in the slow cooker in the afternoon, put the bags of Fritos on the counter next to the slow cooker, and the kids will know exactly what to do."
What a quick, easy, and brilliant idea! Ready for this life-changing recipe? Let us know if you try it in the comments below!
Serves: 6
Preparation Time: 10 min.
Slow Cooker Time: 3 hr, LOW
Ingredients:
1 pound lean ground beef, browned and drained
1 (10-ounce) can tomatoes with chiles
2 cups shredded four-cheese blend
1 (8-ounce) package cream cheese, softened
6 slices bacon, cooked and crumbled
3 tablespoons chopped fresh parsley
1 tablespoon Worcestershire sauce
6 snack-sized bags Fritos
Chopped tomatoes
Instructions:
Place the browned beef, tomatoes, shredded cheese, cream cheese, bacon, parsley, and Worcestershire sauce in a slow cooker. Stir well. Cook for 2 to 3 hours on low until the cheese has melted.
Let cool slightly. Open the bags of Fritos, scoop about 1/2 cup of the beef mixture into each bag, and top with chopped tomatoes. Eat immediately.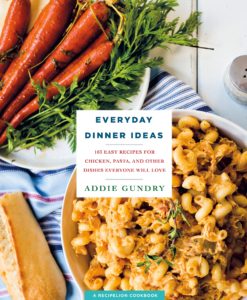 What was your favorite after-school snack? Let us know below in the comments!
Latest posts by RecipeLion
(see all)