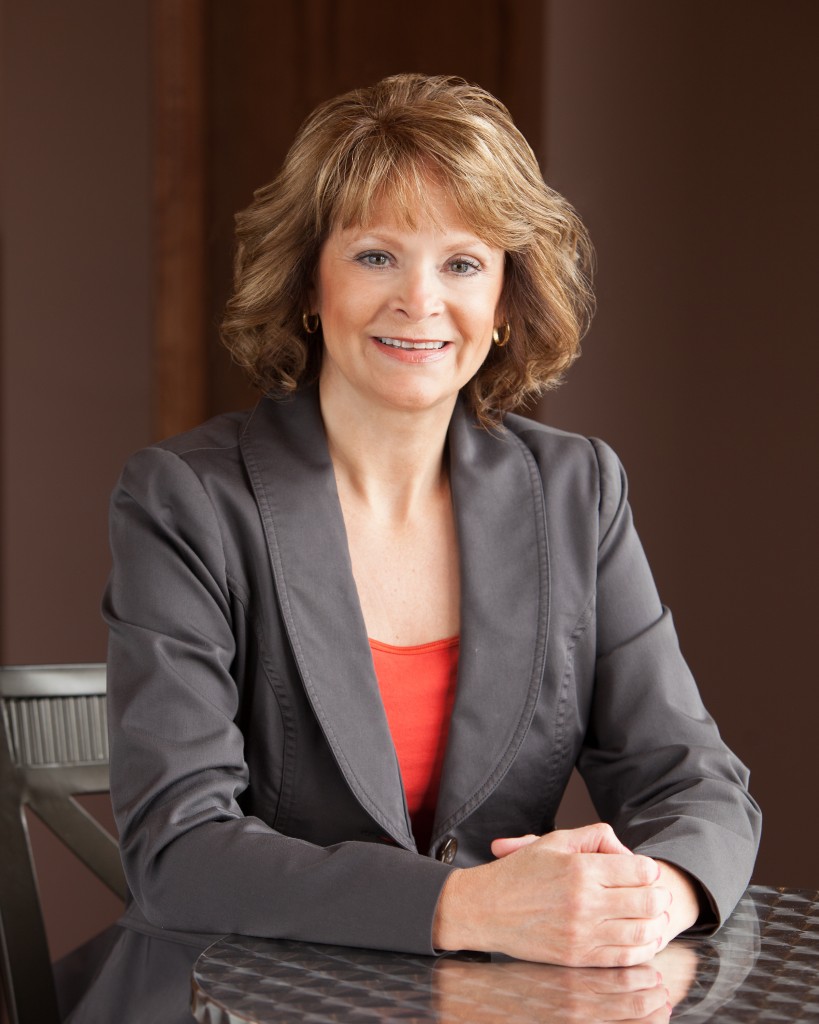 Keeping a gluten-free kitchen can be a daunting task, especially if you're sharing amongst non-gluten-free diners. Cross-contamination can happen if you don't have the right tools and organization strategy, with serious health effects for those with celiac disease or gluten-sensitivity.
Beckee Moreland is a recognized expert on making kitchens safe for those with a gluten-free diet. As director of GREAT (Gluten-Free Resource Education and Awareness Training) Kitchens at the National Foundation for Celiac Awareness, Moreland visits restaurants to run training programs on keeping kitchens certifiably gluten-free.
"Commercial kitchens and home kitchens are very different but some aspects are similar," Moreland said. "Many people find it surprising how inexpensive some solutions can be if you are educated and understand the proper protocols and procedures. GREAT Kitchens provides many tips and tricks that take more time at first but will save time and mistakes from happening in the future."
Moreland shared her expert tips on keeping your kitchen gluten-free with FaveGlutenFreeRecipes on RecipeChatter.
Why are gluten-free kitchens important?

Celiac disease, a serious genetic autoimmune disease which affects an estimated 3 million Americans, is the most notable reason.  In addition, up to 18 million Americans also live with non-celiac gluten sensitivity. The only current treatments for both conditions is a 100% gluten-free diet.
When people with celiac disease eat foods containing gluten, a protein found in wheat, barley, rye and their derivatives, their immune systems respond by damaging the small intestine. The body's ability to absorb nutrients from food is harmed. Food safety is a primary concern for these individuals because of the potentially serious consequences that can occur if even the smallest amount of gluten is ingested.
What are your tips for keeping a kitchen safe for gluten-free diners?
Every user of the kitchen needs to be aware of the need for strict gluten-free procedures and how to protect the gluten-free diner(s) in the house. It's essential to have a house meeting to discuss solutions. Some families choose to maintain a completely gluten-free household so that the gluten-free family member feels as if they have a "safe zone."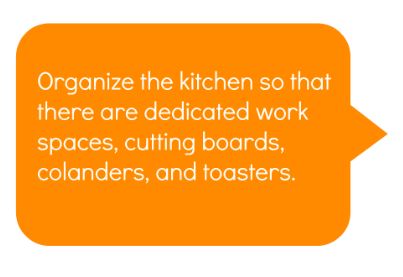 Those who live in a shared space can benefit from organizing the kitchen so that there are dedicated work spaces, cutting boards, colanders, and toasters. Having a dedicated cabinet, shelf, or labeled bin for gluten-free baking needs, snacks, and condiments can be helpful too. Using a specific color for housemates or family members to recognize as "gluten-free safe" can provide another safeguard.
Crumbs and flour can hide in many crevices. Clean counters, cooking utensils, and pots and pans can keep gluten at bay. Marking or labeling products "GF" will help keep crumbs and gluten from touching the gluten-free products.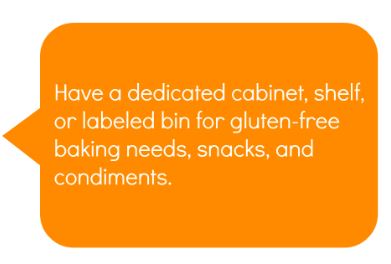 Cross-contact can easily occur if the same jar of peanut butter is used for traditional and gluten-free sandwiches, so having some separate products that are clearly labeled will help prevent cross-contact. The use of barriers can also prevent cross contact, which can be used in both commercial and home kitchens. To ensure that you start with a clean surface, you can stretch plastic wrap over the prep counter, put foil on the baking sheet, or wrap the entree in parchment paper and bake.
Are there any practices that gluten-free kitchens in restaurants/professional settings use that an average person could try at home?
Restaurants run on volume and a fast pace so they need to put into place controls to help them eliminate mistakes from happening during times when they're "in the weeds". Color-coded cutting boards, utensils, storage containers, bins, squeeze bottles, etc. can help keep gluten-free food safe from cross-contact and mistaken identities. With the improvements in taste, texture and appearance of gluten-free products, sometimes it's not easy to see the difference.
Cooking the gluten-free items first and wrapping, labeling, freezing or refrigerating them before cooking foods with gluten can help. Also many foods are naturally gluten-free or can be with a few substitutions. For example, if you make a soup or sauce with corn starch as the thickener and the ingredients are naturally gluten-free, taste and texture aren't compromised and everyone can enjoy it.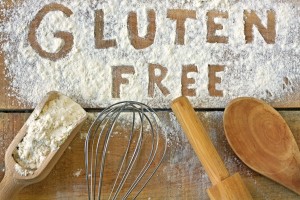 Is there a professional organization/program that certifies professional kitchens as gluten-free, or is it more informal?
NFCA's GREAT Kitchens program has an accreditation program for restaurants, colleges, universities, and camps. Once you've completed GREAT training and implemented the standards, you are eligible to submit an application for GREAT accreditation for your location or school. Those who receive accreditation receive promotional benefits such as a listing on NFCA's website, ability to use the GREAT logo, a door decal, and certificate for the location.
For more information on keeping a gluten-free kitchen, the National Foundation for Celiac Awareness has developed A Taste of GREAT training, a portion of the GREAT Kitchens training program. This professionally-produced online educational program offers valuable tips for a safe gluten-free home kitchen.
Do you keep a gluten-free kitchen?
Latest posts by FaveGlutenFreeRecipes
(see all)