Desserts make the best Valentine's Day date, no matter if you already have a special someone or if you're single and ready to mingle. Good Valentine's Day dessert recipes are never going to give you up, let you down, or run around and desert you. Desserts will be there to serve your every sweet tooth need, regardless of the hour or how big of a portion you serve yourself.
In case you can't tell, I've never really been a huge fan of Valentine's Day. I always find ways to tell my loved ones how much they mean to me on a daily basis, so I've never really seen the point of devoting one specific day to doing so. However, I will never turn down a Valentine's Day dessert, nor can I help myself from making batches of all kinds of red, pink, and purple treats.
A Reason to Love Valentine's Day
I may not care for the holiday, but I love all of the flavors associated with Valentine's Day. In fact, I'm going to go ahead and declare that Valentine's Day is the holiday with the best flavors associated with it. Strawberries, raspberries, red velvet, different kinds of chocolates… How could anyone not care about Valentine's Day desserts?! Plus, store shelves are fully stocked with boxes of sweet and crunchy conversation hearts. For instance, I don't know about you, but I can never stop myself from grabbing a bunch of boxes for myself, in hopes that they'll last me for a while. They're just too good!
Where to Find Valentine's Day Desserts
It may come as no surprise to you that TheBestDessertRecipes.com happens to have a pretty great variety of sweets to celebrate this February 14th. From homemade candy recipes (like the Sweet Homemade Valentine's Day Suckers you'll see below) to and amazing Gooey Red Velvet Brownie Poke Cake, you'll find all of the recipes you'll need to make this Valentine's Day a special one (for yourself and/or a significant other).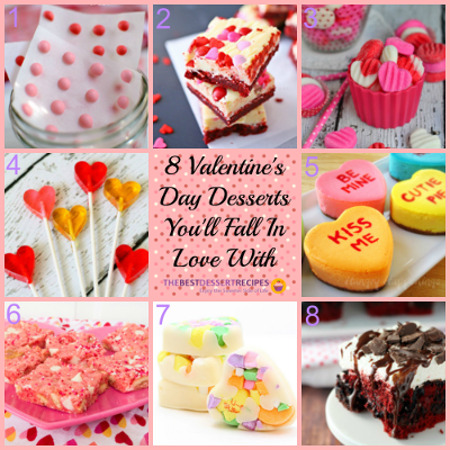 Valentine's Day Dessert Recipes
Easy Peasy Valentine's Day Patties
Sweet Homemade Valentine's Day Suckers
Conversation Heart Cheesecakes
Pink Valentine Brownies (from Eat Cake for Dinner)
2-Ingredient Conversation Heart Bark
Gooey Red Velvet Brownie Poke Cake
Want to find more Valentine dessert recipes? You can find our entire collection of Valentine's Day dessert recipes right here.
What kinds of Valentine's Day dessert recipes are you planning to whip up this year? Let us know below in the comments!
Latest posts by TheBestDessertRecipes
(see all)