I love trying out new techniques in my cooking and baking.  Dessert recipes are especially fun recipes to make when trying to expand your cooking swagger.  This week's giveaway from AllFreeCopycatRecipes.com is an unbelievable and brand new cookbook by Rosetta Costantino. Southern Italian Desserts features recipes and photographs of gorgeous Italian desserts. The cookbook teaches you all you need to know to create masterpieces of your own. We rounded up other visually stunning and delicious dessert recipes for the copycat cook to give a try. Do not miss out on winning a free copy of Southern Italian Desserts in this week's giveaway.
Fancy and Fun Dessert Recipes
These fancy and fun dessert recipes come from all over the world and blogosphere. Italian, French, and truly American dessert recipes can all be elegant without being difficult to make. Impress your friends with these restaurant-quality dessert recipes!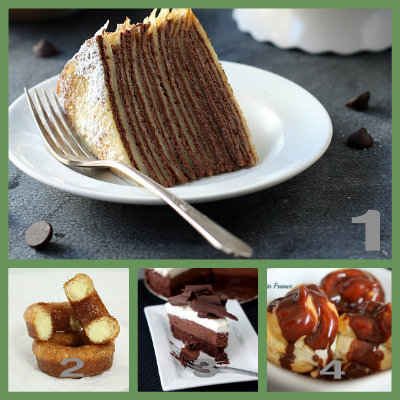 Crepe Cake with Whipped Chocolate Ganache – This dainty cake recipe is stacked with thin crepes. What's not to like?
Our Version of the Cronut – People have been going nuts over the cronut since its recent introduction into the food world. The combination of flaky croissant and doughy donut is one for the recipe books.
Chocolate Orange Macaron – Macarons are a French cookie that is oh so much more delicate and refined than an American cookie. Fancify your kitchen with this macaron recipe.
Restaurant-Style Profiteroles – This recipe makes perfectly French and fancy cream puffs. The crunchy outside is filled with light pastry cream inside.
Triple Chocolate Mousse Cake – This is a classic dessert recipe that never fails to impress.
Southern Italian Desserts Cookbook Giveaway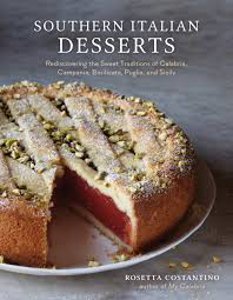 Southern Italian Desserts is so much more than just a cookbook. The collection of dessert recipes is insightful and filled with tips on how to create masterpiece desserts in your home kitchen. Whether you are an experienced pastry maker or giving baking your first shot, you will find this cookbook helpful.  There are not many books on the same topic in English and the author truly makes it easy to find the Italian in all of us. These Italian dessert recipes are sure to impress guests! Read our full review.
We are giving away a copy of the brand new Southern Italian Desserts cookbook to one lucky winner. You have until November 3rd to get in all your entries. Enter here. Good luck!
Latest posts by AllFreeCopycatRecipes
(see all)