Print This Post
I am currently looking out of the window in my office. It is gloomy and the snow keeps on falling. I have the winter blues. I just want it to be summer. Unfortunately, I cannot take a vacation right now and there is nothing I can do about the weather. However, there is something that I can do to cure my wintertime blues. I can make one of these fantastic tropical dessert recipes. If I can't go away on my own personal island then I will do the next best thing— I will take a bite of these incredible tropical desserts which will transport me to my own private island. I can feel it now. The cool breeze blows back my hair, the sun is beating warmly upon me, and I have a decadent dessert in my hand. These tropical dessert recipes are not only the best ways to cure the wintertime blues, but are so tasty that they should be eaten all year long.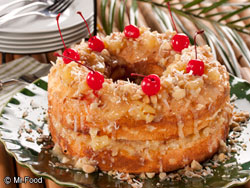 Angel food cake is pretty excellent all on its own, but this Tropical Angel Food Cake is even better. This is one of the best tropical dessert recipes of all time because the cake itself is so fluffy and the coconut on top is divine. This cake is so good that you are going to demand this cake be used as your next birthday cake.
Want more recipes like this one? Check out 12 Tropical Treats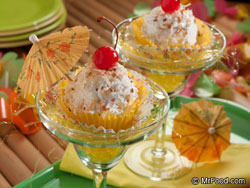 The presentation alone is enough to make these Pina Colada Frosties one of the best tropical dessert recipes in the world. The umbrella on top along with the pina colada glasses make this treat so cute and fun. However, the presentation is not the be-all end-all of this dish. You still have the rich and delicious taste to handle! If this does not cure your wintertime blues, then nothing will.
Want more recipes like this one? Check out 12 Tropical Treats
This tropical dessert recipe is extremely easy to make. Even the most novice of bakers can create a dessert that will make everybody drool over. If you have a bowl, the ingredients, and room in your freezer, then you can make this Hawaiian Pudding Pie which tastes out of this world.
Want more recipes like this one? Check out 12 Tropical Treats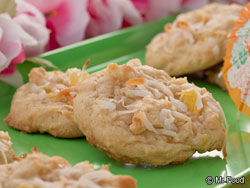 Pina coladas taste the best, don't they? They are sweet and full of coconut—  what a great flavor. Now you can enjoy that same great pina colada taste in a cookie. The pineapple and coconut required to make these wonderful and warm Pina Colada Cookies makes for an exciting twist on the ordinary and generic cookie that we all are so used to eating.
Want more recipes like this one? Check out 12 Tropical Treats
What is your favorite dessert that has coconut in it?
The Mr. Food Test Kitchen is all about Quick & Easy Cooking. We've got over 50 cookbooks, thousands of recipes online, and a nationally syndicated TV segment that's been running for 30+ years.
Latest posts by MrFoodTestKitchen (see all)
Print This Post