As summer rolls around it always makes me think of being a kid. Some of my best childhood memories all took place during the summer. There is nothing more fun than reminiscing about these memories and belly laughing at every story. When I was looking through some these sweet, childhood, candy recipes I started to think of what I used to eat as a little girl. I always remembered that I loved chocolate candy. You could basically give me anything dipped in chocolate and I would eat it. So, I was excited to find these chocolate recipes that actually taste the same, if not better, than my favorite childhood candies.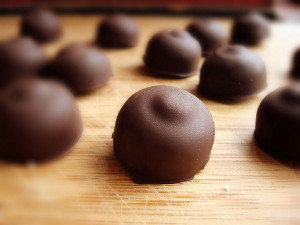 Do you remember all your favorite, classic candies?
One of my favorite memories as a little girl was riding my bike up-town to the local sweet shop. It was always the place where my friends and I would meet. The sweet shop was like any kid's dream. This shop had endless amounts of candy to choose from and it also had the best ice cream bar in town. Being a chocolate fanatic, I always went for any candy bar that had to do with chocolate and peanut butter. Now it's time to bring the sweet shop to your kitchen by making all these homemade, chocolatey and frozen treats. These recipes are easy and are the perfect summer dessert. You can have all your kids' friends ride their bikes to your house and make these classic, homemade candies!
How to Make the Top Copycat Candies:
Once I came across these copycat recipes I feel in love with making a fresh, good ole' candy bar. The best part about making these sweet treats yourself is that you get to decide what you want in it and they are all super fresh. It's like tasting a homemade chocolate chip cookie vs. a store-bought-boxed cookie. There is no comparison. Homemade anything is just always better! So say goodbye to the candy shop and try making your favorite candy right from your own kitchen. AllFreeCopycatRecipes has all the recipes to make your memories become real again.
Have the kids help. Test them and see if they can even taste a difference!
Do you have a favorite childhood treat? Let us know in the comments below!
Latest posts by AllFreeCopycatRecipes
(see all)