Regular RecipeChatter visitors and subscribers of our TheBestDessertRecipes eNewsletter, The Dessert Dish, are no strangers to Amy Atherton's recipes. Amy is the author of Foods for the Soul, a blog dedicated to adding a bit of a healthy twist to sweet treats and savory eats while still making the recipes taste fantastic. She's one of our absolute favorite bloggers to work with and we were really excited to learn more about her. We hope you enjoy our 10 question Q&A with Amy!
1. When did you first discover your love of cooking and baking?
My mom never really enjoyed cooking, so during the summer in high school, she "hired" me to make dinner a few nights each week. I usually picked easy recipes—minimal ingredients, minimal time—because there'd be less of a chance I'd mess something up! Although not part of our dinner "contract," I started baking cookies, loaf cakes, and banana bread for a sweet treat to finish the meal. Because those desert recipes came with precise temperatures, exact times, and the fail-proof toothpick test, I liked them a lot more than the entrée ones!
2. Who has influenced the way you cook bake the most?
I picked up a Cooking Light magazine around the same time I took our mandatory Health class in 9th grade, and the lower-fat lifestyle both encouraged really resonated with me. Cooking Light publishes lighter recipes that taste just as rich and decadent as their indulgent counterparts, and that became my goal when developing my own savory and sweet dishes as well.
3. Which do you like better: cooking or baking?
Baking! I turn on my oven at least once a day—it's practically an obsession!
4. Why did you decide to start a food blog?
As a shy introvert, I normally forgot to make plans during the week with friends for Friday nights, so I spent most of them at home reading a book or browsing for new baking recipes online. Eventually, I challenged myself to spend those Friday nights cooking my way through the alphabet instead. Each week, I made something that started with the next letter, and my rules were that it had to be entirely new—I couldn't have attempted cooking it before—or if I had, I needed to write my own recipes from scratch. A close friend suggested I began a blog to document it, and I took her advice. I looked forward to photographing and writing about nearly everything I ate, so I just kept blogging!
5. What has been your favorite recipe that you've made so far?
I'm so indecisive; may I choose two? I am addicted to my Ooey Gooey Brownies. After each rich fudgy bite, I reach for another one of the dense dark chocolate squares until I've eaten half the pan in one day! My Spiced Pumpkin Muffins have the same effect—I try to slowly nibble and savor each moist mouthful, but I always sneak a second serving. Since they're half wheat and sugar-free, I don't feel too guilty!
6. What was your biggest kitchen fail?
Moist of my mishaps have been minor—I pull out the muffins too soon and they completely collapse, cupcakes stick to the liners so I can't peel off the papers, I forget to foil-wrap the edges of a pie crust so they turn into charcoal… but on Thanksgiving last year, my dad finally passed on his title of "Head Bread Maker" and put me in charge of baking the rolls. I chose a 100% whole wheat recipe—one I made just the week before!—but they failed to rise and resulted in dense rocks. I set the failed ones aside, grabbed a brand new packet of yeast, and tried again. The same thing happened! Turns out not all whole wheat flours are created equal: some contain enough gluten to get bread to rise; others don't. My family still stuck those rolls in the microwave to make them soft enough to serve, but I haven't bought that flour brand again!
7. How do you find inspiration for your recipes?
Some of my inspirations spring from sampling sweets at restaurants or bakeries and wanting to recreate a healthier version. However, most of my ideas result from my evening walks. My mind wanders, thinking about new flavor combinations or fun twists on old favorites, like Peach Pie Cinnamon Rolls, Carrot Cake Scones, or Piña Colada Crumble. I always end up with more ideas than time though!
8. If you had to eat one food for the rest of your life, what would it be and why?
Dark chocolate. Its smooth texture and rich taste always brightens my day!
9. What is the most important lesson you've learned in the kitchen so far?
Have the courage to try again. Not every recipe will turn out perfect on your first attempt—I've remade a chocolate chip cookie recipe 12 times to make it soft and chewy!—and the most successful cooks and bakers are those with the motivation and dedication to tweak, test, and keep trying until they're satisfied with the results. But it's still okay to walk away and cry for a bit before your next attempt!
10. What is your favorite meal of the day and why?
Dessert! With an insatiable sweet tooth, I always want to finish my meals with a cookie, brownie, muffin, scoop of ice cream, slice of cake, or a couple pieces of dark chocolate. I even plan lunch and dinner around dessert to make sure I save enough room. Treats always bring the biggest smile to my face!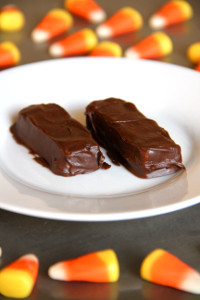 Amy's
3-Ingredient Butterfinger Bars
are, by far, her most popular recipe on
TheBestDessertRecipes.com
as of right now. Make sure to check those out, in addition to a few more of her recipes, on
her Featured Foodie profile
!
Which do YOU like better, cooking or baking?
Latest posts by TheBestDessertRecipes
(see all)