We work with many bloggers here at AllFreeCasseroleRecipes.com, and one of our most enthusiastic is Featured Foodie Judy Hannemann. Judy is the author of the blog, The Midnight Baker, and knows how to make a good casserole. We love working with Judy and wanted to share more information about her to you, our readers.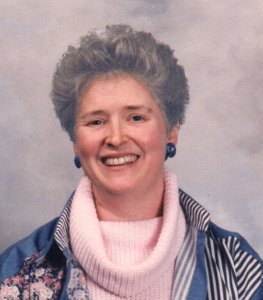 Blogger Interview
AFCAS: Why did you start blogging?
Judy: I started blogging mainly because I was bored after I retired!  I always liked to cook and share my recipes, so that's how my food blog came to be.
AFCAS: What was your profession before blogging?
Judy: In my other life, I was a mechanical engineer.  Proud graduate of Brooklyn Polytechnic (now NYU-POLY)
AFCAS: When did you learn how to cook? Who were/are your influences?
Judy: I always helped my mother in the kitchen.  I actually got to cook something, under her supervision of course, when I was in kindergarten.  My biggest influence was my mother.  She was a big kitchen experimenter and instilled that in me as well.  "Try it; change it." was her motto.  If it didn't turn out as expected, well, she'd say, "It's all good food," so we ate it.  Sometimes the disasters actually were better than the originals and came to be treasured family recipes.
AFCAS: What is your favorite thing to cook?
Judy: My favorite dishes to cook are stir fries and casseroles.  Reason is, there is a multitude of variations and if you love experimenting and changing things up, these are the perfect dishes to work with.
AFCAS: What is your favorite food to eat?
Judy: My favorite food is chicken.  Yes, I know I'm a "cheap date," but I just love the stuff.
AFCAS: What is your proudest achievement in the kitchen?
Judy: My proudest achievement is that I can make a mean choux pastry and great eclairs!
AFCAS: What is your most embarrassing kitchen story?
Judy: I guess that would have to be the time I forgot to put the flour in the cake I was making.
AFCAS: What is your favorite local food (restaurant, particular dish, or type of food)?
Judy: Hands down favorite is our local corn [in New York].  Best in the world!  We live for Labor Day when it's available.
AFCAS: What food will you never eat?
Judy: Beef stew…I hate it and always will
AFCAS: What is your favorite kitchen appliance and why?
Judy: My rice cooker.  It does way more than cook rice and if I could marry the thing, I would!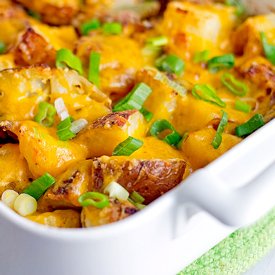 Judy's most popular recipe on AllFreeCasseroleRecipes is her Loaded Bacon Ranch Potatoes. It's a cheesy side dish that has everybody talking. We don't want you to miss it, so view the recipe feature on AllFreeCasseroleRecipes.com or go directly to the recipe.
What is your favorite type of potato?
Latest posts by AllFreeCasseroleRecipes
(see all)