Did you know that February is National Cherry Month? I actually just learned this recently. It was a little surprising since cherry season occurs in the summer in North America. Yet, here were are in cold February, celebrating cherries. I can't say that I'm upset about this. Cherries are awesome. They have a unique flavor that's like no other fruit. Being a picky eater as a child, I didn't eat a cherry until I was almost 20. I don't know why I waited so long. I missed out on so many cherry recipes over the years. It's not like I ever had any cherry-flavored substance that I didn't like; medicine, lollipops, candy – they all tasted great. Finally, I ate a cherry all by itself and realized it tasted just like I thought it would – there's no denying that unique cherry flavor.
What better way to celebrate National Cherry month than to eat them! Many recipes that call for cherries are desserts, and AllFreeCasseroleRecipes.com has their fair share of them. Take, for instance, Cherry Dessert Casserole (pictured). It's a terrific dessert that's best served warm. You likely have all the ingredients on hand – flour, sugar, butter, etc. The only thing you will need to go get are the cherries themselves! Cherry Pineapple Dump Cake (pictured) is a good dessert to make if you want to escape winter and go to a tropical island. You'll only need 5 ingredients, including  pineapple and cherries. As with any dump cake, dump each ingredient in the pan (do not stir) and put it in the oven. It's as easy as that!
Food blog, Becky Cooks, has a great recipe for White Chocolate Cherry Blondies (pictured). They use dried cherries and white chocolate chips to make a blondie you can't refuse. They're perfect to serve a big crowd. A different blog, Pots and Pins, has another awesome cherry recipe: Cherry Pie Cake Bars. This dessert is half cherry pie and half cake – awesome, right? You're getting two desserts for the price of one. Using both a cherry pie filling and dried cherries gives you maximum cherry flavor.
Desserts aren't the only way to incorporate cherries into your diet. They are excellent in breakfast foods, too. Take Cherry Pop Tarts (pictured) from AllFreeCopycatRecipes, for example. You'll feel good making your very own pop tarts instead of buying ones from the store. A yummy cherry filling hides inside and a vanilla bean glaze is drizzled on the outside for all the world to see. You'll love it! Our final recipe today comes from the blog, The Professional Palette. It's called Baked Cherry French Toast and is a delight for your mouth. Strawberry preserves and fresh cherries add a sweetness to the French toast that really hits the spot. This is definitely a Sunday morning breakfast to enjoy in your pajamas.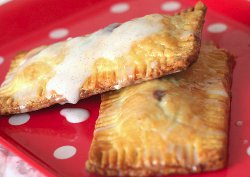 So, there you have it, six cherry recipes in honor of National Cherry Month. What's your favorite way to eat a cherry?
Latest posts by AllFreeCasseroleRecipes
(see all)