This guest post was written by Cassie Corbett. Cassie is a nutritionist and kitchen design specialist. Her motto is: "Cooking isn't a chore, it's a passion."  She is also a freelance writer for World Kitchen.
This is a dish I inherited from my German grandmother. I'll admit I changed it a little bit to bring it into modern times, because I, like most people, don't always have time to make my own noodles. This meal is so colorful, you can serve it on white dinnerware and it will still stand out. My favorite part is you need very little cookware to prepare it. It's one of those great, easy one pot dishes.
Fettuccine With Ham and Tomato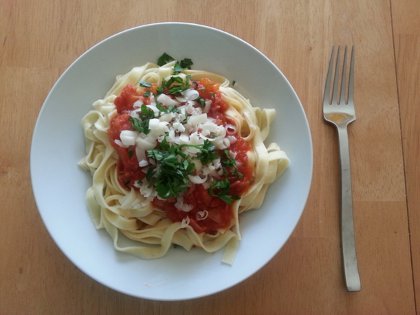 Serves 2
Ingredients:
2 lbs. of tomatoes (any kind, I use Roma)
½ onion
½ bunch of Italian parsley
¼ lb Black Forest ham
1/3 tube of tomato paste
olive oil
salt and pepper
1 pack of fettuccine (I use the fresh kind – you will find them in the refrigeration part of your supermarket)
1 brick of Swiss cheese
Note:  You will also need a sharp knife, a cutting board, a medium sized, non-stick-pot, a colander and a blender to get the job done.
Instructions:
1. Bring salted water to a boil and add the pasta. When cooked to your liking, drain. Then place pasta into preheated serving bowl and cover with a plate. Keep warm in oven on very low temperature.
2. First you want to cut the onion in half lengthwise, then you turn the cut surface onto the cutting board and cut into the onion lengthwise so it looks like a fan (see picture), then cut it crosswise into small cubes. The smaller, the better.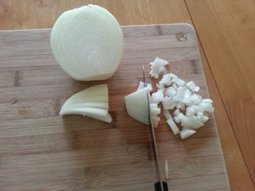 3. Now cut the ham into thin strips.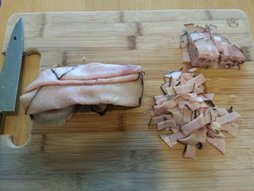 4. Quarter the tomatoes (with exception of three) and blend them in the mixer. It will look very light, but once it starts cooking it will redden quickly.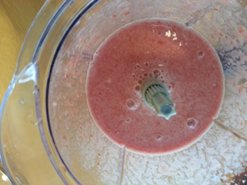 5. Put a little olive oil in the pasta pot (I use about 1 tsp.) add the onion and sauté the onion until it turns glassy. Add ham and sauté another 2 minutes then add 1/3 tube tomato paste and mix well with the onions and ham.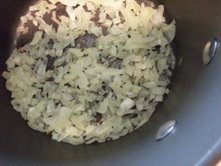 6. Now you can pour in the blended tomatoes. Slit a cross into the top of the 3 remaining tomatoes and set them, slit up, into the pot. Cover with lid and cook at medium heat until you see the skin of slit tomatoes come loose.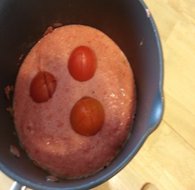 7. Remove the whole tomatoes and peel the loosed skin off. This is now really easy, but careful they will be hot. Then dice them as small as possible. I do this because I like a little consistency to my sauce.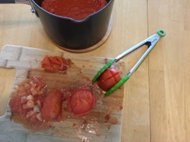 8. Then return them to the pot and simmer on low, while you prepare the rest.
9. Remove the hard stems from the parsley and then finely chop.
10. Grate as much of the Swiss cheese as you need (you can always grate more if required). A tip on the side: If you put the chunk of cheese in the freezer 10 minutes before you grate it, it will be much easier.
11. You can now take your serving bowl out of the oven, remove the plate and either arrange the sauce on the pasta in the serving bowl, or put the pasta on plates, add the sauce, add the parsley and finish it off with the grated cheese.
No one is going to say no to this dish!  Enjoy!
What would you serve as a side dish with this meal?
Latest posts by RecipeLion
(see all)