There's just something about the term "flourless" that is so attention-grabbing. While "gluten-free recipes" can sound a bit scary, "flourless recipes" sound almost like a challenge! (In the same vein, "meatless" sounds so much cooler than "vegetarian" a lot of times.) It's kind of like saying "This recipe is missing an ingredient but still tastes great!" and I'm all for that.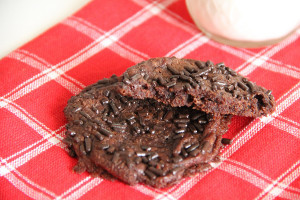 It's actually pretty neat to see all the different varieties of desserts that can be made without flour. For instance, I may or may not have yelled "LIAR!" at the first person who told me that it was possible to bake a cake without needing flour. I couldn't bring myself to believe them. Since baking is a science, I guess I always assumed that flour was always necessary. Turns out that, unsurprisingly, I was wrong (and boy am I glad)!
The flourless recipes below are seriously flawless. They have such intense and decadent flavors to them, whether they're chocolate or peanut butter treats. If you're looking for something new to try, I'd definitely recommend any of the easy dessert recipes below.
Sure, not all flourless treats our gluten free, but quite a few of them are. Just be sure to double-check the ingredients on some of the recipes below if you're following a gluten-free diet. It's easy peasy (especially since a lot of the dessert recipes come straight from FaveGlutenFreeRecipes.com)!
Related: What is Gluten?: Recipes for a Gluten-Free Diet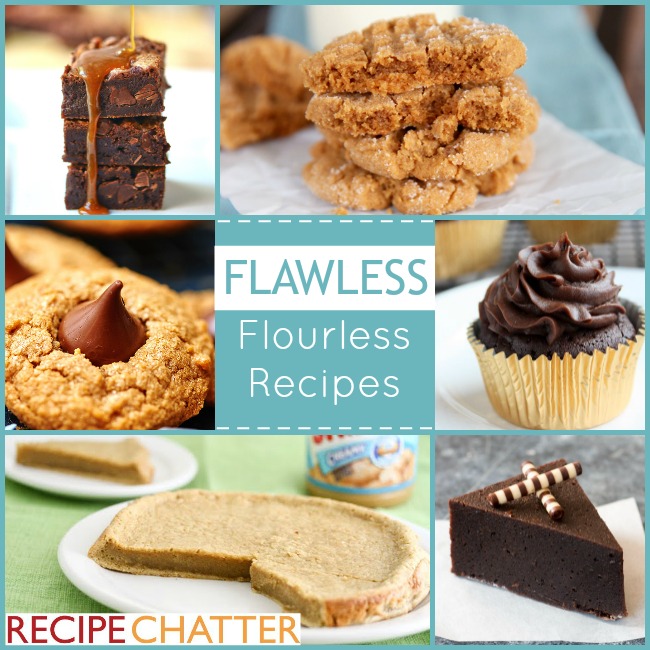 Flourless Chocolate Dessert Recipes
Flourless Salted Caramel Brownies
Fantastic Flourless Chocolate Cupcakes
Flourless Nutella Cookies
Ultimate Chocolate Fudge Cake
Flourless Chocolate Hazelnut Mud Cake
Flourless Fudge Brownie Bites
Amazing Flourless Chocolate Cake
Flourless Nutella Cake
Flourless Chocolate Mini Cakes
Other Flawless Flourless Recipes
Quick and Easy Flourless Peanut Butter Cookies
Flourless Tangerine Cake
3 Ingredient Flourless Peanut Butter Cake
Skinny Girl's Flourless Muffins
Flourless S'more Cookies
Flourless Peanut Butter Blossoms
Flourless Almond Butter Muffins
Flourless Chunky Oatmeal Cookies
Flourless Peanut Butter Chocolate Chip Mini Muffins
Since I'm already on a gluten-free recipes kick, I thought I'd introduce you to this Pinterest board. It's full of some great gluten-free ideas for dinner, dessert, and more! Check it out!
Follow FaveHealthy Recipes's board Gluten Free Recipes on Pinterest.
What's one dessert or treat that you don't think could ever be made flourless?

Related: Better Together: Peanut Butter and Chocolate
Latest posts by FaveGlutenFreeRecipes
(see all)