Get ready to flip the fins out when you see how cute this JELL-O dessert recipe truly is! We're all about mermaids this summer. From hairstyles to home decor, princesses of the sea are definitely trending.
As The Little Mermaid's Sebastian the crab* once pointed out, life is pretty much AMAZING under the sea, so maybe we all want to escape the world's turmoil into mermaid fantasies.
Mermaid perks: Swimming free! Awesome hair because no humidity! Bra magically stays on with no straps! Sea creature friends! Seems like a good life, right?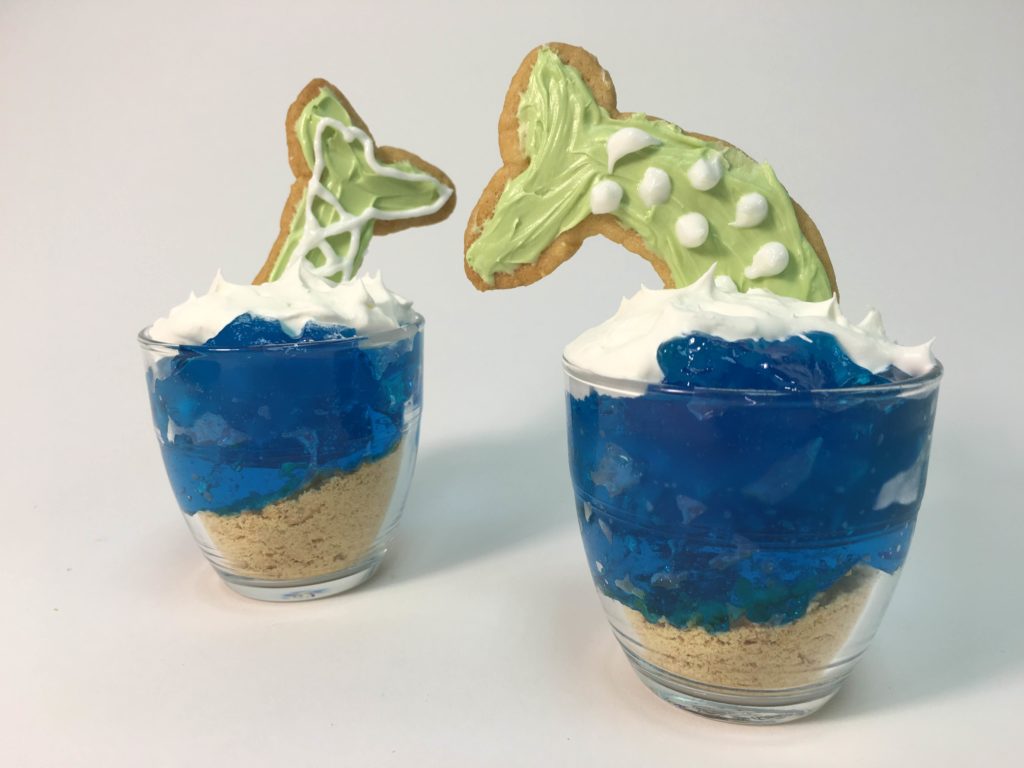 Anyway, the mermaid trend inspired our Test Kitchen chef Christina Hammond to make these cute JELL-O desserts that look like a mermaid flipping her tail out in the ocean breeze. SHELL you make them?! (Sorry.)
Be sure to check out these 21 DIY Ideas to Embrace Your Inner Mermaid on our sister blog, CraftPaperScissors!
*Sidenote that I once had a high school debate over whether Sebastian the crab was supposed to be from the Caribbean or France (based on his accent). A close friend insisted he was French and I still think she was wrong. Maybe I need to let things go, but feel free to agree with me in the comments. (Or not.)
Easy Mermaid JELL-O Dessert
Ingredients:
Berry Blue JELL-O
Refrigerated sugar cookie sough
Graham crackers
Cool Whip
Instructions:
Make Berry Blue jello according to package directions.
Using refrigerated sugar cookie dough, cut out mermaid tail shapes. Bake according the package directions. Allow to cool completely.
Crush graham crackers and add to the bottom of glasses.
Add blue jello to the cups, filling almost to the top.
Top with generous dollops of cool-whip.
Press a cookie mermaid through the cool-whip and into the "water".
Serve!
Where will you serve these cute mermaid treats? Let us know below in the comments!
Latest posts by RecipeChatter
(see all)