The editors of RecipeLion and AllFreeCasseroleRecipes recently attended the FMI Connect 2014 show in Chicago, where we learned that our grocery shopping could look a lot different in the upcoming years. FMI Connect is a conference that brings together food retailers and companies from around the country. There are tons of different companies, big and small, who attend. We saw food of all sorts, industrial ovens, shopping carts, and much more.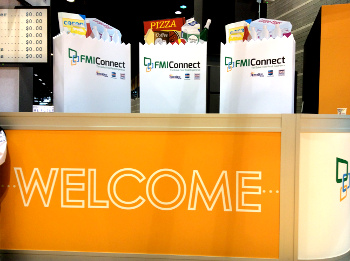 One thing that FMI Connect shared with attendees was the "food retail experience of the future." We learned that integrating online shopping via a smartphone app is the direction that we're headed. Imagine sitting in a cafe, enjoying delicious food and drink, while a personal shopper does your grocery shopping. Sounds pretty nice, doesn't it? While this may not be a reality for awhile, an app is already in the works that would allow us to create our shopping lists on our phones and relax while grocery store employees do our shopping for us behind the scenes.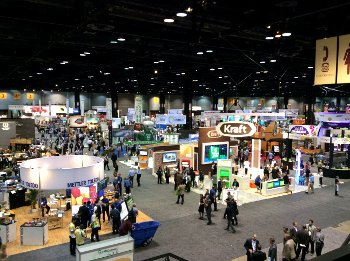 We already use our phones to find recipes, make grocery lists, and connect with our friends on social media. Soon, we may be on to bigger and better things when it comes to the menial task of grocery shopping.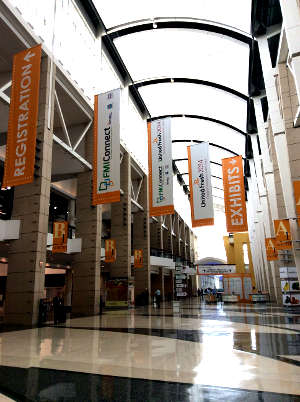 In addition to getting a first look at what the future of food retail may be, there were so many exciting things to see at FMI Connect. From a Hershey ice cream truck to food bacteria walking around in costume, this show had everything. Oh and did we mention all of the free food?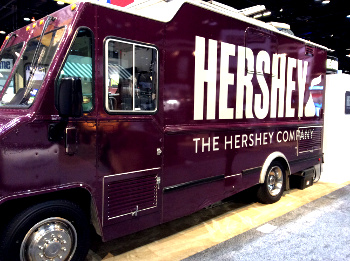 In terms of food trends, we definitely saw that healthy and organic foods, as well as fresh produce, were super popular. Avocados were everywhere and in many different forms. This was no surprise, considering avocados are amazing. It also seems that snacks are becoming a huge focus for the food industry. Even foods that you don't think of as snack foods, such as olives, are coming out with travel-size or mini packs made specifically to satiate your cravings in between meals. It was cool to see all of the new food products that are just coming out.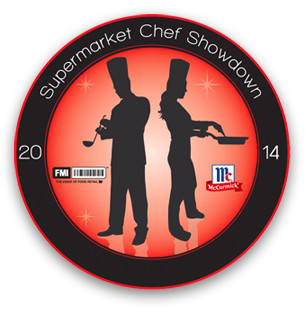 One of the most exciting things for us to see at FMI Connect was the Supermarket Chef Showdown. This is an annual cooking competition which features the best chefs from around the country. The chefs represent different food retailers and compete for the title of Supermarket Chef Showdown Grand Champion. Out of a total of 130 entrants, 24 finalists came to the exhibit floor to compete at FMI Connect.
During the rounds of the competition – Healthy Meals, Family Meals, Ethnic Meals, Side Dish/Mini Meals, and Desserts – the chefs were put to the test. Competition was tough as the chefs were required to make meals in under 20 minutes with popular food brands. Four renowned food experts judged the competition and got to taste all of the delicious food. Needless to say, we were jealous of them…until they had to make some difficult decisions and declare winners.
Winners were chosen from each category and then a grand champion was chosen among those. Check out the dishes that were made by the winners:
Healthy Meals: Greek Grain Salad with Dilled Feta Dressing – Rachael Perron, Kowalski's Markets
Family Meals: Korean-Style Hillshire Farms Dogs with Kimchi Slaw and Alexia Garlic Sweet Potato Fries – Keoni Chang, Foodland Super Market
Ethnic Meals: Moroccan-Style Chickpea and Kale Stew with Date Gremolata – Andrew Kingtigh, Hy-Vee, Inc.
Side Dish/Mini Meals: Mediterranean Chicken Meatballs – Erin Horton, Orchard Fresh
Desserts: Banana Beignets – Michael Brady, FRESH by Brookshire's Grocery
As you can see, these aren't simple dishes. These are complex and innovative recipes! We were wowed by the creativity of these chefs. Congratulations to all of the winners and especially to the Supermarket Chef Showdown Grand Champion, Rachael Perron.
Be on the lookout for full recipes from the Supermarket Chef Showdown, coming soon!
 What is your favorite winning recipe from the Supermarket Chef Showdown?
Latest posts by AllFreeCasseroleRecipes
(see all)