If you're from the South, you likely know what Frito Pie is. Being from the Chicago area, I was unaware of this gem…until recently. Our fans went crazy for it on Facebook, which is when I realized how incredibly awesome it really is. So, if you're from the North and are wondering what the heck a Frito pie is, then please, keep reading. You will be delighted. For all o' ya'll Southern folks, keep reading, too, to see our favorite Frito pie recipes.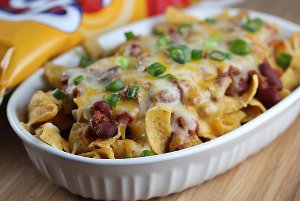 Here it is: the Frito Pie. In three easy steps, you'll have the perfect dish for watching the game, tailgating, serving party guests, or just whatever.
Step 1: Make homemade chili/ buy your favorite store-bought chili.
Step 2: Layer Fritos, chili, and cheese in a casserole dish.
Step 3: Bake.
What makes each recipe different is the chili. This recipe uses a chili made from ground beef, tomato sauce, salsa, chili seasoning mix, and red kidney beans. If you're feeling lazy or just don't have a lot of time on your hands, use a store-bought can or chili that you've stored in the freezer from last time.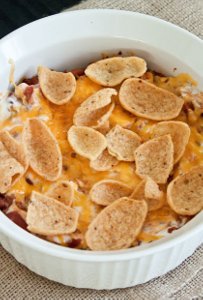 This Frito Pie differs from the previous one in that it uses chili beans in its chili, plus sour cream. Don't forget to add some more Fritos on top! This recipe makes enough for six, but it's incredibly easy to double, triple, or halve to suit your needs. So simple, right?!
Walking Taco from The Girl Who Ate Everything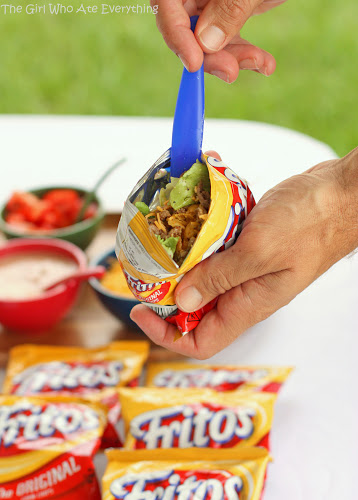 Here's a variation called the Walking Taco. Now this, I've heard of. Instead of chili, it uses regular taco ingredients – ground beef, lettuce, tomatoes, cheese, and what have you. They are super convenient. I used to get one every once in awhile at college. I'd stop at the Student Center, pick up a Walking Taco, and continue about my business. All you need is a bag of Fritos and a fork. If you've never had one before, you're truly missing out. For your next summer party, serve up some Walking Tacos. Your guests will love them and there will be no dishes for you to wash! Now that's a win-win if you ask me.
Other Frito Pies for you:
Slow Cooker Frito Pie – Load up your slow cooker with ground beef, tomato sauce, beans, corn meal, cheese, Fritos and more to get a delish dish.
White Trash Frito Pie – Ground beef, Velveeta, and tomato soup all come together to form a dish that will wow your friends.
Have you eaten Frito Pie before or is this the first time you've heard of it?
Latest posts by AllFreeCasseroleRecipes
(see all)