Food Network Magazine brought the food and music scenes together Saturday, September 20 with their Food Network in Concert event at Ravinia Festival. Crowds flooded into the outdoor music venue for a day filled with live music and amazing food from some of Chicago's best chefs.
If you're someone who likes to listen to music while cooking or baking, you know that food and music create the perfect harmony in the kitchen. We got a chance to meet Food Network stars Sunny Anderson, Anne Burrell, Jose Garces, Alex Guarnaschelli, Jeff Mauro, Marc Murphy and Geoffrey Zakarian, and ask them about their relationship with music and food.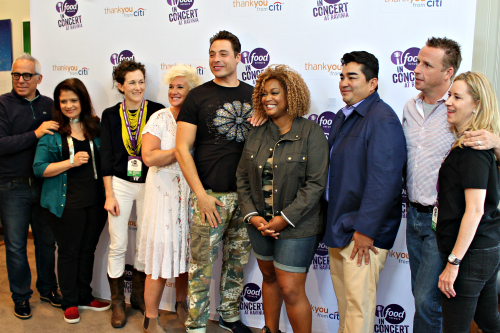 Geoffrey Zakarian said he likes listening to jazz, opera, and old school bands. For Anne Burrell, the kind of music she listens to while cooking depends on what she's making.
The camaraderie between the Food Network Stars was what Burrell said she most looks forward to during events like this.
"We don't get to see each other that often," she said. "By the end of the day your belly hurts from laughing."
Before long, the stars split up to attend various cooking demonstrations and panel discussions around the Festival. First on our agenda was the pork grilling demonstration led by Jeff Mauro, host of Food Network's show "The Kitchen" and sponsored by none other than the National Pork Board.
Jeff got the crowd excited about cooking pork from the moment he stepped on stage. You can see why… his energy was palpable:
Participants got to learn how to grill up two different types of pork — tenderloin and pork chops — with hands-on help from Jeff as he worked the crowd.
Some tips from Jeff on getting perfectly grilled pork every time:
Use the "5 second rule": Hold your hand over the grill for 5 seconds and if your hand starts hurting, it's ready for the meat.
Invest in an instant-read thermometer. "It's a must-have for cooking pork," according to Jeff.
Pull the meat off the grill when it reaches 140 degrees F. The residual heat that comes after you take it off the grill will bring it up to the optimal 145-165 degree temperature (depending on the cook you want).
Never scrape at your grill. Let the sugars "work their magic" and release the meat on its own, Jeff told the crowd.
Let pork rest for 5-10 minutes before slicing into it.
After the pork grilling demo, it was off to eat more food! Live music was bumping all day as guests got to sample fare from some of Chicago's best chefs. From Asian pork belly, to duck tacos, and everything in between, there was no shortage of beautiful dishes on display for people to sample.
More Recipes Like This
Hawaiian BBQ Pulled Chicken Sandwiches
Slow Cooker Beer and Brown Sugar Pulled Chicken Sliders
More Recipes Like This
More Recipes Like This
As if all that delicious food wasn't enough, we were also lucky enough to attend a dinner called "Scenes from an Italian Restaurant," which featured — you guessed it — Italian dishes worth drooling over!  The 5-course meal was hosted by "Chopped" judge and Iron Chef Alex Guarnaschelli and also featured an Italian opera singer as entertainment. Here's what we ate (get ready to have your mouth water!):
Before Phillip Phillips and John Mayer took the stage, it was time for dessert! The I Want Candy Dessert Party featured amazing treats from 9 pastry chefs from around the country. Treats from Vanille Patisserie, Glazed & Infused and more were spread out in beautiful display for guests to enjoy. The event showcased recipes from Food Network's new cookbook SWEET. (We're giving away three cookbooks below!)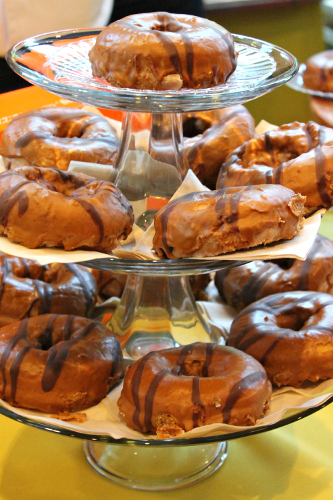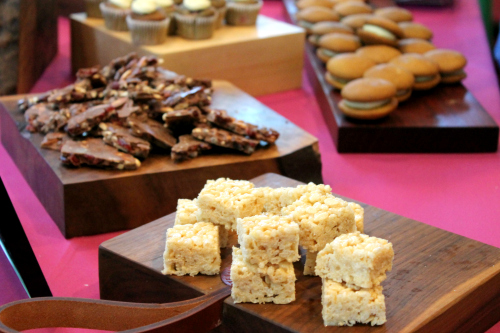 All in all, the Food Network in Concert event was a fun-filled day of live music and unbelievably amazing food.
We're sharing the excitement with our readers! Check out the amazing recipe for Polka Dot Pumpkin Pie below. It's from Food Network Magazine's new cookbook SWEET, and we're giving away three copies to our readers. Get this awesome fall recipe and see below for details on how to enter!
Polka Dot Pumpkin Pie
This recipe makes 2 disks of dough, enough for 2 crusts. Use the extra dough for decorating or freeze for up to 2 months.
SERVES: 8-10
ACTIVE: 45 min
TOTAL: 2 hr 35 min (plus cooling)
Ingredients:
FOR THE DOUGH
2½ cups all-purpose flour, plus more for dusting
4 tablespoons cold vegetable shortening
2 teaspoons sugar
1 teaspoon apple cider vinegar
½ teaspoon salt
1½ sticks (12 tablespoons) cold unsalted butter, cut into small pieces
1 large egg, beaten
FOR THE FILLING
1 15-ounce can pure pumpkin
1¼ cups heavy cream
2/3 cup granulated sugar
2 large eggs
1 teaspoon ground cinnamon
½ teaspoon ground nutmeg
½ teaspoon vanilla extract
¼ teaspoon salt
Coarse sugar, for sprinkling
Instructions:
Make the dough: Pulse the flour, shortening, sugar, vinegar and salt in a food processor until it looks like fine meal. Add the butter and pulse until it is in pea-size pieces. Sprinkle in ¼ cup ice water and pulse until the dough starts coming together. Pinch the dough with your fingers; if it doesn't hold together, add up to 4 more tablespoons ice water, 1 tablespoon at a time, and pulse again.
Divide the dough between 2 sheets of plastic wrap and pat each into a disk. Wrap tightly and refrigerate until firm, at least 1 hour or preferably overnight.
Roll out 1 disk of dough into a 12-inch round on a lightly floured surface. Ease into a 9-inch pie plate and fold the overhanging dough under itself. Pierce the bottom and sides all over with a fork. Roll out the other disk of dough; cut into small circles with a cookie cutter and place on a parchment-lined plate. Refrigerate the pie crust and the circles at least 1 hour or overnight.
Preheat the oven to 350 degrees F. Line the crust with foil and fill with pie weights or dried beans (keep the small dough circles chilled). Transfer the pie plate to the oven and bake until the edges are golden, 20 to 25 minutes. Remove the foil and weights and continue baking until the crust is golden all over, 10 to 15 more minutes. Transfer to a rack and let cool completely.
Make the filling: Gently whisk the pumpkin, cream, granulated sugar, eggs, cinnamon, nutmeg, vanilla and salt (do not overmix). Pour the filling into the crust. Attach the chilled dough circles to the edge of the crust with the beaten egg. Brush the circles with more egg, sprinkle with coarse sugar and bake until the filling is set around the edges, 50 minutes to 1 hour (the middle will still jiggle slightly). Transfer to a rack; let cool completely.

Reprinted from the book SWEET by Food Network Magazine. Copyright © 2014 by Food Network Magazine, LLC. Published by Clarkson Potter/Publishers, a division of Random House LLC, a Penguin Random House Company.
Enter to Win Food Network Magazine – SWEET Cookbook!
We're giving away a copy of Food Network Magazine's new cookbook SWEET to three lucky readers! Entering is easy. All you need to do is answer this question in the comments below:
What's your ultimate guilty pleasure sweet treat?
Leave your answer in the comments below and we'll randomly select three winners. The giveaway ends on Thursday, October 2 at 11:59 p.m. CST. Good luck!
The Fine Print:
Contest open to US and Canada residents 18+.
One comment per person, please answer the question above.
Contest closes Thursday October 2, 2014 at 11:59p CST.
Leave a comment on this blog post to enter.
The winner will be notified by email.
Latest posts by RecipeLion
(see all)