By Blair Chavis and Julie Sammarco
As Americans across the country packed their bags and headed off for a barbecue-filled Memorial Day weekend, the Food Network Magazine gave Chicago locals some tasty reasons to stick around town a bit longer.
Magazine fans and press wrapped a line around Illinois Street in the heart of Chicago's River North neighborhood May 22 for their chance to sample fare at local restaurant RPM Italian, and mingle with Food Network celebrities Jeff Mauro and Alex Guarnaschelli. Mauro is the winner of the seventh season of Food Network Star and host of the Food Network cooking show, Sandwich King. Guarnaschelli is a recurring judge on the popular prime-time series Chopped and is featured on her own shows, The Cooking Loft and Alex's Day Off, along with appearing on Food Network's Iron Chef America as both a challenger and a judge.
"I love just being a representative for the Food Network," Mauro said. "I'm pretty much the Chicago guy for the Food Network. That, in itself, is a dream.  The show's great. I love it all. But, just still living here, shooting my show here, featuring my family, my neighborhoods, my people, that's unbelievable."
The lounge event is the Food Network's way of bringing the magazine to life, according to Food Network Magazine Features Editor Yaran Noti.
"It's a way for people to walk into a space and see sort of what the magazine would look like if it were a space, if it
were a restaurant like this," Noti said.
"It's a way for us to sort of get out into the field and have people interact with our stars, interact with us, interact with people who work with the magazine, interact with each other, and just sort of have a fun event," Noti added.
This lounge event marked the second time the Food Network hosted such a soiree in Chicago. The Food Network has hosted similar local events in Los Angeles, South Beach and New York since 2010. Last year's event in Chicago took place at Mercat a la Planxa in Chicago's South Loop neighborhood.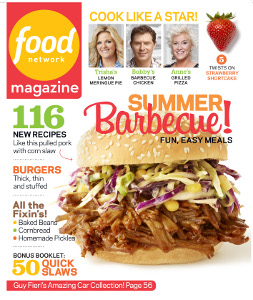 Prime Publishing sent a couple of its editors from AllFreeSlowCookerRecipes.com and FaveHealthyRecipes.com to represent the team and sample foods from both RPM Italian and dishes inspired by the Magazine.  The menu at the event included traditional Italian favorites with a modern twist.
In addition, the Magazine used this event as an opportunity to showcase their June issue to local fans, along with recipes from the issue.
Some dishes that stole the show included Prime Beef Meatball Sliders (shown right).  The meatball sandwiches were tender, juicy, and smothered in a traditional marinara sauce on soft, doughy buns, topped with melted cheese. The recipe for Prime Beef Meatball Sliders is also featured in the June issue of the Food Network Magazine.
Provolone Stuffed Pickled Peppers (shown left) and Lobster Caprese (shown below, right) also made an appearance. The stuffed peppers were bite-sized combinations of salty and sweet, with a surprise kick of vinegar at the end.
The Lobster Caprese was a fun and fancy play on an Italian classic. Instead of a plate of caprese salad, guests received skewered bites of fresh mozzarella, basil, and lobster. Lobster gave a luxurious element to an otherwise simple
party appetizer. Bright-colored lobster kept the natural color of the salad, which normally incorporates tomatoes. This is an easy appetizer to mimic at home for your summer guests.
Oscar Mayer, a sponsor of the event, provided a delicious pizzette (small pizza) that featured cremini mushrooms, bacon, and Fontina Fonduta cheese (shown below). This pizzette was a savory sensation, with a soft, chewy crust and a textured, bacon-packed topping.
Desserts varied at the event and included a Chocolate Shell Baked Cannoli, Hazelnut Mini Tartufo wrapped in a chocolate shell (hazelnut gelato wrapped in a chocolate shell), as well as Mini Coffee Gelato Cones, incorporating a coffee flavor from event sponsor Barista Prima Coffee. These bite-sized treats were refreshing and creamy.
Another sponsor at the event, Philadelphia, provided one of the featured desserts, Chocolate Cheesecake Mousse, featuring Kraft Snack Delights Chocolate.  To try this recipe at home, see the full recipe below:
Chocolate Cheesecake Mousse
Ingredients:
1 (8-ounce) package Philadelphia Snack Delights Dark Chocolate, room temperature
4 ounces Philadelphia Cream Cheese, room temperature
2 cups powdered sugar
1/2 cup simple syrup
1/4 vanilla bean, seeds only
Pinch of salt
1 cup milk, whole
1/2 cup water
Instructions:
Combine chocolate, cream cheese, powdered sugar, simple syrup, vanilla bean seeds and salt in blender.
While running on low speed, slowly add milk and water.
Blend until smooth, about 2 to 3 minutes.
Pour contents into pre-baked pie shells and place in refrigerator until set, preferably overnight.
For more information on Food Network events in your city, visit the Food Network's events page.
For summer entertaining ideas, check out collections: Summer Potluck Recipe Ideas: 35 Summer Slow Cooker Recipes and 12 Best Frozen Desserts For Summer.
What's your favorite dish to serve at a summer gathering?
Latest posts by AllFreeSlowCookerRecipes
(see all)