Nine Prime Publishing employees volunteered at Misericordia's Family Fest Sunday, Sept. 13, selling Hearts & Flour Bakery's goods to raise funds for the Misericordia community.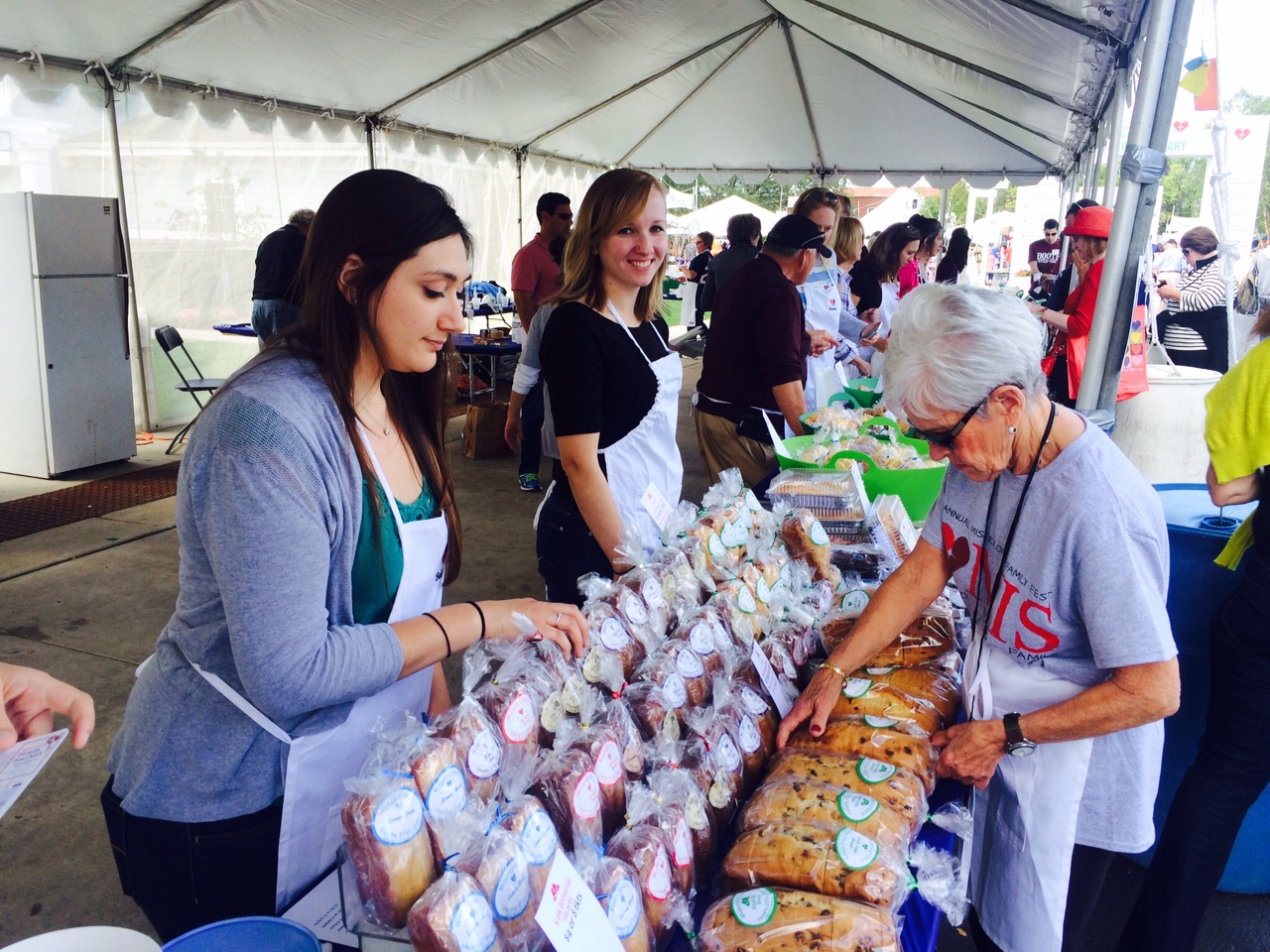 Editor Emily Ramirez helps a customer at the bakery's booth.
Family Fest is the biggest annual fundraiser for Chicago's Misericordia, which serves and houses more than 600 children and adults with mild to profound developmental disabilities, many of whom are also physically challenged.
In Misericordia's Hearts & Flour Bakery, residents gain real-life work experience in making and packaging cookies, brownies and more. Being foodies, our Prime Publishing staff helped with the bakery booth at the fest.
Learn more about Misericordia Hearts & Flour Bakery.
"Volunteering at the main bakery booth was great — everyone was super nice and welcoming, and the baked goods looked delicious. Homemade goodies were flying off the shelves– especially the Irish Soda Bread! I even bought myself a few loaves to take home and share with my family," said Jenny Benoit, managing editor.
Emily Ramirez, editor, said "When we first got there, it was kind of a "dive right in" experience. We were told to sign in, grab an apron, and find a place to stand. It was quick to get accustomed to selling baked goods, because all of the customers seemed like repeat customers who were very familiar with the bakery and knew exactly what they wanted."
Erin Jones, marketing analyst, said "The bakery was very busy… it certainly put our mental math skills to the test. The experience was overwhelmingly positive and I would absolutely return as a volunteer in the future."
The fest, which draws 10,000 people each year, impressed our editors with its size and the enthusiasm of the Misericordia community.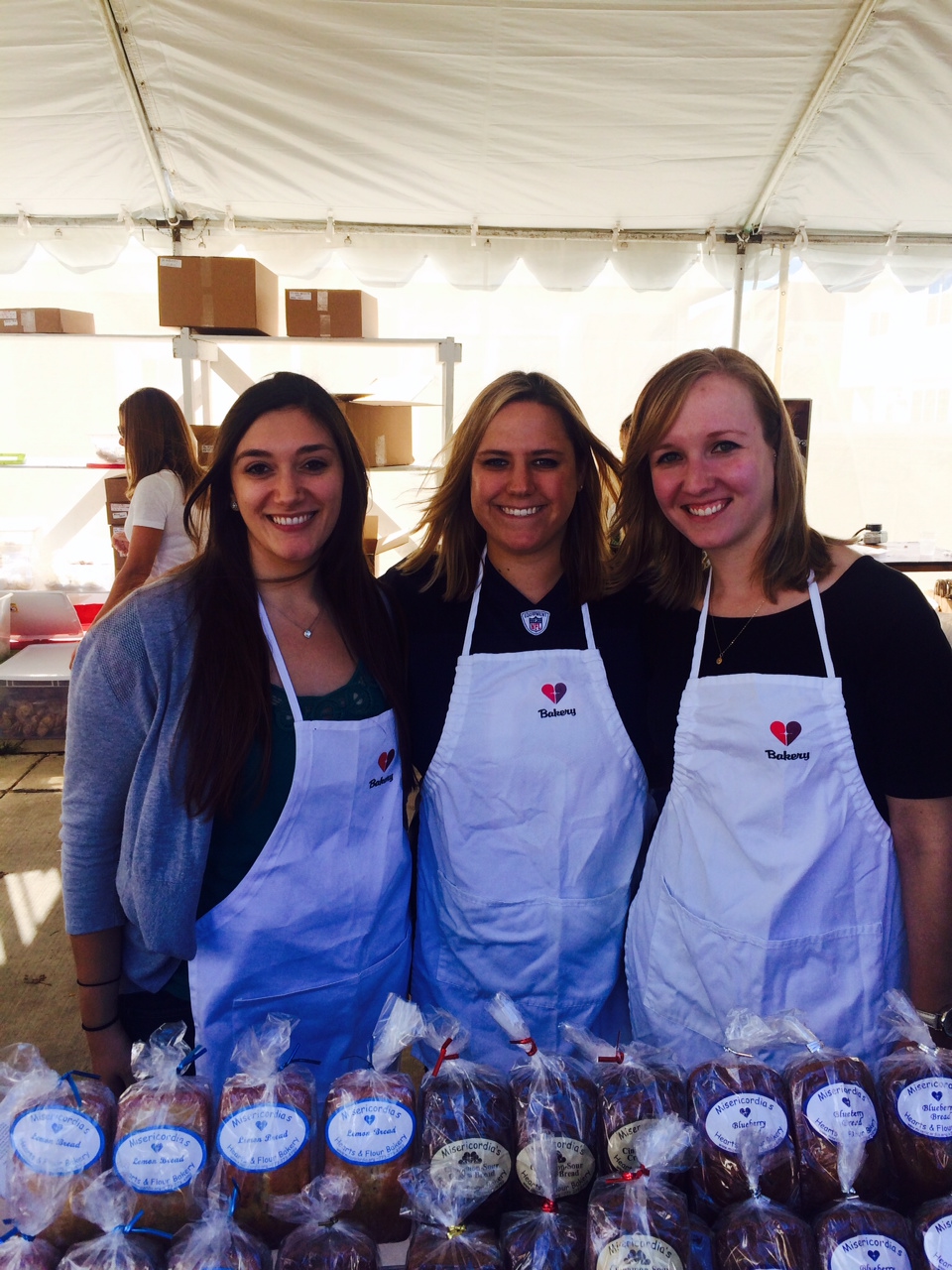 Editors Emily Ramirez, Jenny Benoit and Julia Wiatr helped at the booth.
Ramirez said, "I think I can speak for everyone when I say that it was a ton of fun to volunteer. This is clearly a huge event that many families wait for all year. I didn't really know what to expect, but when I got there, I was amazed. Without even walking into the grounds, you could tell how popular the fest was from the fact that the cabbie who drove me there knew exactly what I was talking about."
"There were so many cool booths that you could walk around to, including a bunch of local food places and even Culver's. There were also tons of games for kids and even bingo and gambling for adults. It seemed like the most popular places were the dining tent, the auction, bingo, and, of course, the Hearts and Flour Bakery tent," Ramirez said.
Beth Ann Morley, editor, said "I had so much fun volunteering at Misericordia. There were a ton of people at the event, so the volunteers were never short of things to do. Everyone seemed to love the baked goods, and after buying my own loaf of banana bread, I learned for myself that their baked goods are AMAZING!"
Check out this recipe for Double Chocolate Cookies by a Misericordia resident!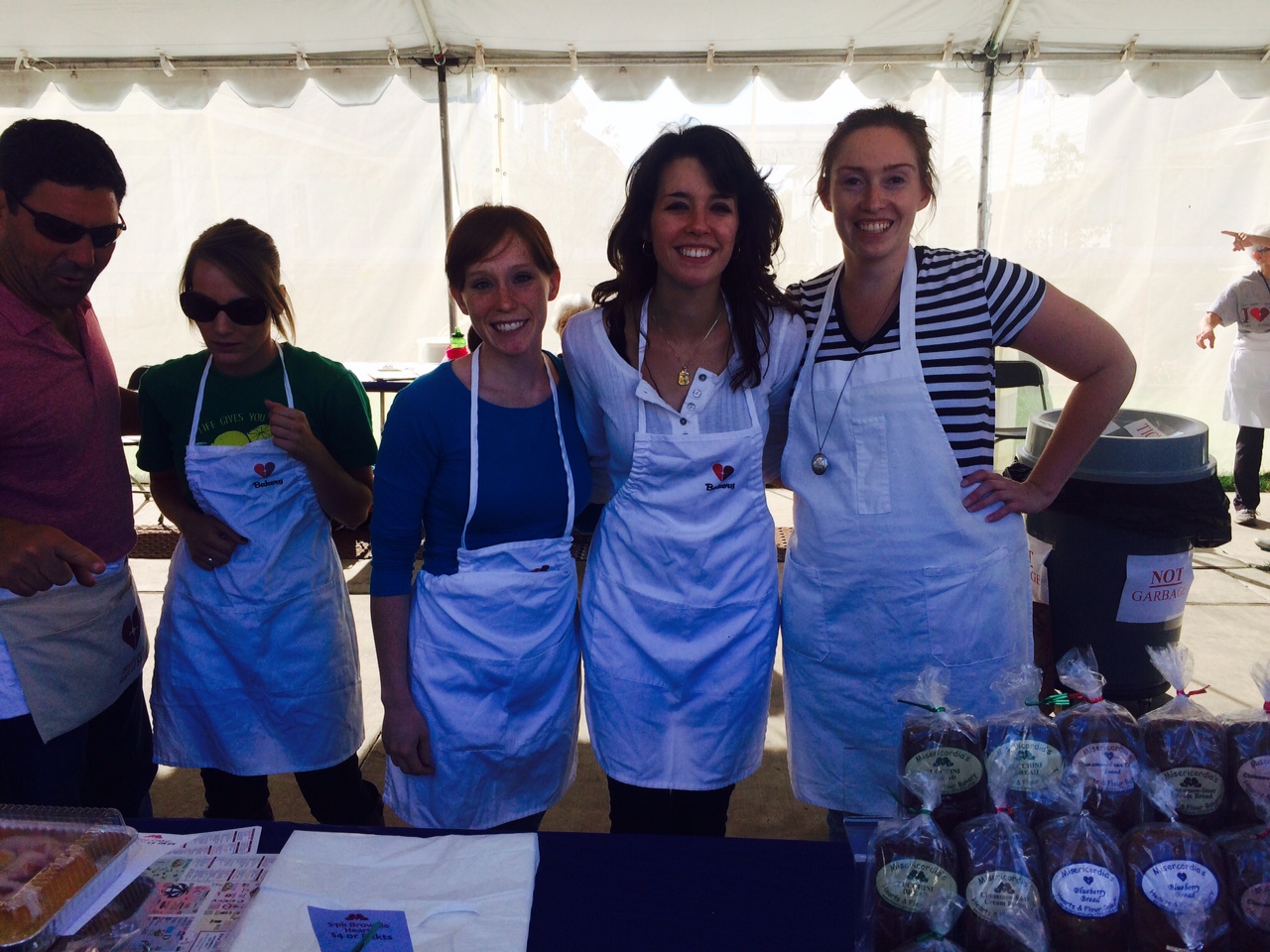 Editors Beth Ann Morley, Dana Byerwalter and Kaylee Pope helped out, too.
The main takeaway was that when you're at Misericordia, you're family. Dana Byerwalter, editor, said "It seems like the people who volunteered at and work for Misericordia are really like a family. When someone they knew won a raffle, everyone was very excited and spreading the news and just so happy for her. As an added bonus, the woman who won the raffle immediately donated the money back to Misericordia."
For more information on Misericordia, visit www.misericordia.com or call 773-273-4759. Visit the Hearts & Flour Bakery on Facebook.
Learn more about our charity efforts:
Where have you volunteered?
Latest posts by RecipeChatter
(see all)