Have you ever taken a foodie tour of America? Whenever I travel around the States, I make it a point to try some of the local food. From New Orleans po boy sandwiches to Illinois' Springfield horseshoes, I never regret finding out what the locals love and giving those foods a try.
Why not try a signature dish from every state? It seems like a fun way to keep things interesting and unleash your inner foodie. We gathered a list of 50 recipes for 50 states. Do you think our choice represents your state? When you think of your home state, what food comes to mind? Tell us in the comments.
This American Flag cake is our most perfect patriotic dessert!
If you're an absolute foodie but don't travel often, it's a fun treat to try recipes from other states. When putting together this list of easy recipes for each state, the regional tastes definitely emerged! From the country comfort foods of the south to the classic American dishes of New England, each corner of America has something delicious to offer.
After you find your own state (and let us know if we got it right!), be sure to browse the other 49 states. You'll come across some amazing recipes that you might want to try! Personally, I've never had a Kentucky Hot Brown Sandwich – as a bacon lover, that needs to be corrected.
We hope this patriotic list of recipes inspires some state pride!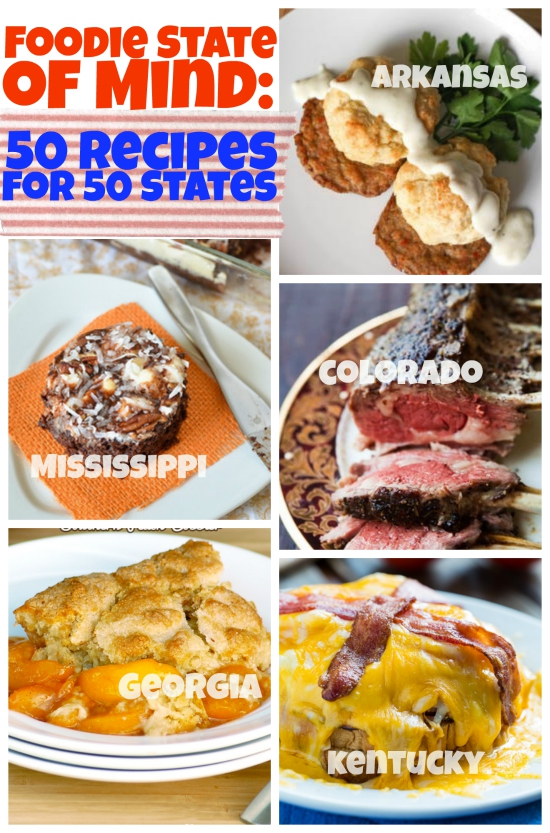 Foodie State of Mind: 50 Recipes for 50 States
Choose Your State:
Alabama
Alaska
Arizona
Arkansas
California
Colorado
Connecticut
Delaware
Florida
Georgia
Hawaii
Idaho
Illinois
Indiana
Iowa
Kansas
Kentucky
Louisiana
Maine
Maryland
Massachusetts
Michigan
Minnesota
Mississippi
Missouri
Montana
Nebraska
Nevada
New Hampshire
New Jersey
New Mexico
New York
North Carolina
North Dakota
Ohio
Oklahoma
Oregon
Pennsylvania
Rhode Island
South Carolina
South Dakota
Tennessee
Texas
Utah
Vermont
Virginia
Washington
West Virginia
Wisconsin
Wyoming
Alabama

Fried Green Tomatoes with Alabama White Sauce
Alaska
Chilled Whole Baked Alaskan Salmon
Arizona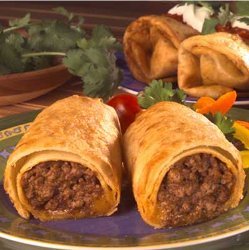 Easy Beef Chimichangas
Back to top >
Arkansas
Back-to-Basics Buttermilk Biscuits and Gravy
California
Colorado
Connecticut
Delaware
Florida
Georgia
The Best Ever Southern Peach Cobbler
Hawaii
Idaho
Illinois
Indiana
Iowa
Kansas
Kentucky

Louisiana
Slow Cooker Louisiana Red Beans and Rice
Maine
Maryland
Massachusetts
Michigan
Minnesota
Mississippi
Missouri
Montana
Nebraska
Nevada
New Hampshire
New Jersey
New Jersey Ham, Egg and Cheese Sandwich
New Mexico

Green Chilie Chicken Enchilada Rice Bake
New York
North Carolina
North Dakota
German Cinnamon Apple Cake (Kuchen)
Ohio
Oklahoma
Oregon

Pennsylvania
Rhode Island
South Carolina
Shrimp and Grits

Back to top >
South Dakota
Tennessee
Tennessee Tea Cake Donuts
Back to top >
Texas
Utah
Orange Jell-O Salad
Back to top >
Vermont
Virginia
Slow Cooker Honey Glazed Ham

Back to top >
Washington
West Virginia
Wisconsin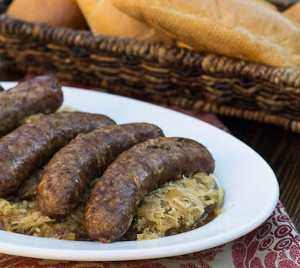 Wyoming
When you think of your home state, what food comes to mind?
Latest posts by RecipeLion
(see all)