The new year is right around the corner. That means it is time for you to make your list of resolutions. We know that losing weight is high on your list of New Year's resolutions. Don't be ashamed, losing weight is on everybody's New Year's resolution list. We want to help you out. In order to lose weight you need both diet and exercise. We have the diet part covered for you. We have collected an assortment of amazing recipes that are not only good for your belly, but good for your taste buds as well. Download this free eCookbook of 8 Recipes for Healthy Eating In The New Year to look through and print off some of the tastiest and healthiest dishes to help you meet your New Year's resolution.
By downloading this free eCookbook of 8 Recipes For Eating Healthy In The New Year, you will get your choice of appetizers, main courses, and desserts to choose from. Below are examples of some of the scrumptious recipes we have to offer you.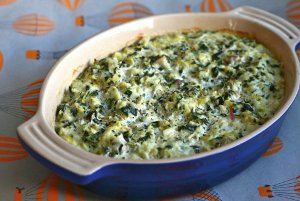 Spinach Artichoke Dip is one of the best party foods around. It is so creamy and delicious that you always have to force yourself to stop dipping goodies into the dip in order to not ruin your appetite. Spinach Artichoke Dip makes for the perfect dish to put out for your guests to eat during your New Year's Eve party. Unfortunately, this dip is normally loaded with fat and calories. However, the editors at FaveHealthyRecipes.com have the perfect solution for you (pictured above). Our version of Spinach Artichoke Dip is better for you because it uses Greek yogurt and light mayonnaise which makes for a healthier alternative than what you are normally used to. The best part about this recipe is that you won't be able to taste the difference between our Spinach Artichoke Dip and everyone else's version.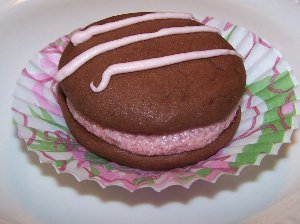 This amazing eCookbook also has recipes for the best meal of the day: dessert. When trying to lose weight, it is best to avoid sweets altogether. But we know you are not going to do that and that's OK. Instead, try these sweet treats which are a healthier alternative than the high-fat junk you normally eat. Not only are we giving you recipes that are better for you, we are giving you recipes that taste incredible. When you download this free eCookbook you will find many wonderful recipes such as the Chocolate Raspberry Whoopie Pie (shown above). Raspberry pairs beautifully with chocolate and this delicious delectable is sure to be a favorite of yours.
Download the full copy of 8 Recipes For Eating Healthy In The New Year and get on the right track to reaching you goal of losing weight this year!
Besides losing weight, what is your number one New Year's resolution for 2013?
Latest posts by RecipeLion
(see all)