In 1997, singer/songwriter Paula Cole asked one of the most profound questions of our generation. A question that no one has been able to answer. Where have all the cowboys gone? That is a great question because you do not see any cowboys anymore. They seem to have gone the way of the Dodo bird. However, cowboy culture lives on and, like most cultures, it lives on through its food. RecipeLion.com's newest free eCookbook, Classic Cowboy Recipes: 27 Authentic Western Recipes, has all the classic cowboy recipes that are guaranteed to please your entire family.
Cowboys were men's men. They had to be up for days at a time doing hard and strenuous work. Therefore, their meals had to be both hearty and delicious. Every one of the dishes in this free eCookbook are hearty and delicious. These are ten gallon hat sized meals and are sure to feed your entire family. This eCookbook has all of the meals you need. Whether you are eating under a hot and sunny day or at night next to a fire started from scratch, we have all the the classic cowboy recipes that you will ever need. We have Cowboy Black Bean Chili (pg. 9), Cowboy Chicken Pizza (pg. 12), and Baked Chili Cheese Spread (pg. 16, pictured). You will love making these dishes and love eating them even more!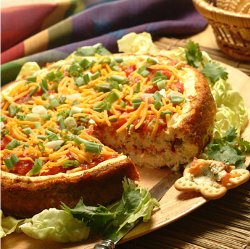 You won't need to lasso your family to the dinner table when you make these classic cowboy recipes from this incredible free eCookbook. The wonderful aroma that these dishes emanate will make everyone's mouth water. The smell alone will bring everybody to the dinner table and the taste of these dishes will keep them there. You can start off the meal with a little Arkansas Caviar (pg. 14) which will lead perfectly into a delicious Cowboy Casserole (pg. 17). Then you can end the night with crazy-good Cowboy Candy Bars (pg. 35). If the old western cowboys had food this good while they were herding cattle, they would be out in the wilderness every single day of the year.
Stop procrastinating and download the free eCookbook Classic Cowboy Recipes: 27 Authentic Western Recipes right now.
What is your favorite Cowboy or Western recipe?
Latest posts by RecipeLion
(see all)