Pies have been all the rage lately here on RecipeChatter.com. From National Pie Day to the geekier Pi Day, all of the pie bases seem to have been covered. However, you may or may not have noticed that gluten free pie recipes haven't yet been discussed. That's because we've been busy putting together our newest free eCookbook! And guess what? It's all about pie.
Out of all 376 of our favorite dessert recipes, we always seem to love pie recipes the most. So, we decided to channel all of the love we have for pies into our new free eCookbook, Delicious Gluten Free Desserts: 7 Gluten Free Pie Recipes.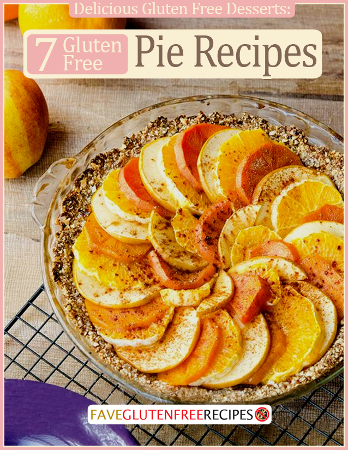 The recipes in this new cookbook range from fruit pies to chocolate pies, guaranteeing that you'll find the perfect pie to match your sweet tooth cravings. Come on, if that beautiful fruit pie on the cover isn't enough to make your mouth start watering, we truly don't know what will.
All of the pies we included in Delicious Gluten Free Desserts: 7 Gluten Free Pie Recipes really build off of one another. For instance, we thought it was best to include a simple crust recipe at the very beginning of the book so that you can have it on hand as you leaf through the rest of the collection. After all, what's a pie without a crust? Plus, the easy pie crust recipe is really versatile. It would taste fantastic with fruit pies, creamy pies, and savory pies as well. If anything, you'll want to snag your free copy of Delicious Gluten Free Desserts: 7 Gluten Free Pie Recipes just for that crust recipe alone.
Ok, so maybe you don't want to get our new eCookbook for just the pie crust. That would be kind of silly, especially considering all of the wonderful full pie recipes we've included in the book. Here's a sneak preview of two of the recipes in the book that we think you're really going to like.


Peanut Butter Pie
A creamy and fluffy peanut butter filling sits on top of a crushed cookie crust. Trust us when we say that this pie recipe is just as delicious and decadent as it sounds. Be careful though, you may be tempted to eat the entire thing by yourself!
Back to Basics Fruit Pie (pictured on cover)
This fruit pie made our cover for a reason. Not only is it great to look at, but it has such a fresh and crisp flavor. It calls for quite a few different kinds of fruit, creating a sweet and appealing flavor combination that's just right.


Still a bit on the fence about whether or not you want to download Delicious Gluten Free Desserts: 7 Gluten Free Pie Recipes? Here's a little more information about what we included in it!
What's your favorite gluten free pie recipe flavor?
Latest posts by FaveGlutenFreeRecipes
(see all)