This guest post comes to us from Alea Milham from Premeditated Leftovers.
I love making frittatas; they are fast, easy, and delicious! Frittatas are my go-to meal when I am in a hurry. I can cook one from start to finish faster than pizza can be delivered. Frittatas are perfect for any meal of the day. They allow me to serve my family real food on busy nights, a  hardy breakfast before a big day, or an elegant dish for a brunch with friends.
When making frittatas, I often use leftovers from the night before, which cuts down on prep time. You need an oven safe-pan, but you can use that same pan when cooking on the stove top, so it is a one-dish meal which reduces clean up. But here is the coolest part – because frittatas remind people of a quiche, you get the "wow factor" without the work.
Basic Frittata Recipe
Recipe type: Brunch
Prep time:  5 mins
Cook time:  18 mins
Total time:  23 mins
Serves: 6 – 8
Ingredients:
1 tablespoon olive oil
1/4 cup onions
2 cups vegetables
1 cup leftover cooked meat, diced (or an extra cup of vegetables)
8 eggs (or 16 egg whites)
1/2 cup cheese
1/2 teaspoon garlic powder
1 teaspoon parsley
1/4 teaspoon seasoned salt
1/8 teaspoon pepper
Directions:
Preheat oven to broil.
Add olive oil, onion and vegetables to a 10" oven safe frying pan.
Cook over medium-high heat for 4 -5 minutes or until onions are tender. Add meat and cook for an additional 2 -3 minutes or until heated through.
Add eggs to a small bowl and beat with a fork. Add cheese, garlic powder, parsley, seasoned salt, and pepper to eggs. Mix well.
Pour the eggs over the vegetable mixture. Cook over medium-low heat until eggs are almost set, approximately 4 – 5 minutes.
Place frying pan 4 –6 inches beneath the broiler. Broil for 2 –4 minutes or until the eggs are cooked through and beginning to brown.
Here are some Frittata recipes to inspire you to use make use of ingredients that you have on hand when creating your own frittata:
Use leftover meat to create a hearty frittata: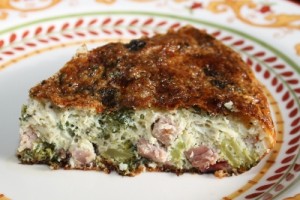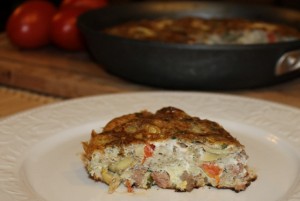 Use excess vegetables from your garden to create an elegant frittata: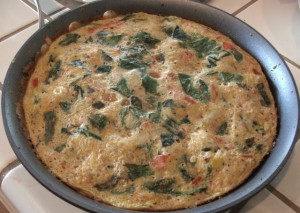 You can use leftover pasta in frittatas: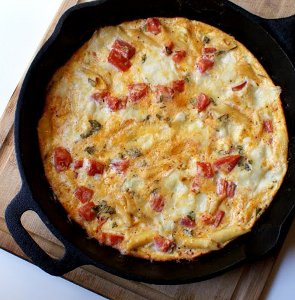 You can use leftover rice in frittatas: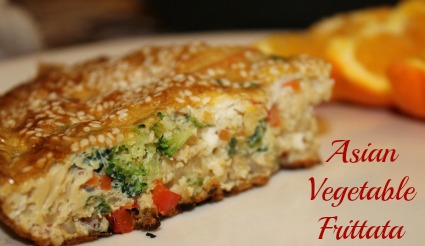 Asian Vegetable and Rice Frittata
Or you can raid your refrigerator for a quick breakfast: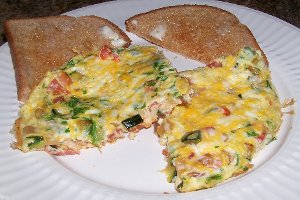 What is your favorite way to enjoy a frittata?
Latest posts by AllFreeCasseroleRecipes
(see all)