Today's guest post comes to us from Sabrina Savra DeCarlo.
Brown Betties are from a family of old-time recipes invented by American and English cooks to take advantage of fruit bounties and use up baking leftovers like stale bread. These recipes have funny names like buckle, cobbler, and grunt but are all fruit baked with crumbs, cake, bread, oats, and such. We all know fruit crisps and crumbles, but do you know Betty?
Brown Betties are fruit that's combined with buttered stale bread or cake crumbs, then baked. Some recipes have you layer the fruit alternately with the crumbs but thickly layering the crumbs over the fruit layer lends maximum crunch that mingles nicely with the juicy fruit and vanilla ice cream or whip cream.
What made Betty so beautifully frugal for Grandma in WWII works today. With minimum effort (butter pan, slice fruit, toss over crumbs) and stuff in your kitchen already (butter, sugar/honey, spices, bread, fruit) you can make a dessert full of rustic sweet comfort.
Fruit Brown Betty Recipe
*Recipe adapted from Cooks Illustrated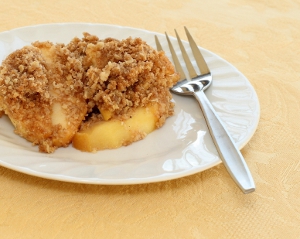 Ingredients
Filling:
• 2 1/2 to 3 pounds of fresh in-season fruit peeled and sliced in 1-inch chunks, such as apples, pears, peaches, plums
• OR 3 cups of fresh berries such as strawberries, raspberries, blueberries, blackberries, pitted cherries, etc.
(Thaw and drain frozen fruit first. For apples, preferably use varieties like Granny Smith or McIntosh.)
• 1 to 1 1/2 tablespoons juice from one lemon (less for tart fruit)
• 1/4 teaspoon cinnamon or ground or freshly grated nutmeg (optional)
• 1/4 cup granulated sugar or 1 to 2 tablespoons of honey
• 1 tablespoon unbleached all-purpose flour (omit for plum or peaches)
• (Use 1 tablespoon quick-cooking tapioca to thicken plums and peaches.)
Topping:
• 6 slices of good-quality sandwich bread, white or wheat (nothing too fluffy or airy)
• 1/4 cup plus 2 tablespoons packed brown sugar
• 2 tablespoons granulated sugar
• 1/4 teaspoon cinnamon
• 5 tablespoons unsalted butter, melted
To make vegan, replace the butter with the same amount of coconut oil at soft butter consistency. To make this gluten-free, replace the bread and flour with your preferred gluten-free flour and sandwich bread. Adding 1/4 cup shredded coconut to topping is a fun addition.
Instructions
For Filling:
1. Preheat oven to 375 degrees F. Make sure rack is in the middle position.
2. Wash, peel, core, and cut fruit as necessary. If using frozen fruit, thaw and drain first.
3. In a medium bowl, mix fruit with lemon juice, sugar/honey, flour, and optional spices. Set aside.
For Topping:
4. Tear or slice bread in large pieces. Freeze slices until firm and grate slices into very coarse crumbs, about the size of a peanut. If using food processor, don't freeze bread and pulse slices to yield very coarse crumbs. You should have 3 cups.
5. In another medium bowl, toss bread crumbs, sugars, cinnamon, and butter in bowl, stir or rub with fingers to combine.
To Assemble and Bake:
6. Butter a 9" square pan. Place the apple filling in the pan, spread evenly.
7. Sprinkle the topping evenly over the fruit, making sure it's all covered.
8. For all fruit except berries, cover with foil and bake 45 to 50 minutes until fruit in center of pan is tender when pierced with a knife. Remove foil, increase temperature to 400 degrees, and bake about 10 more minutes until crumbs are golden brown, and fruit juices bubbly.
For berries, cover with foil and bake 20-30 minutes until berries are bubbly. Remove foil, increase temperature to 400 degrees, and bake about 10 more minutes until crumbs are golden brown.
9. Cool slightly on rack and serve warm with vanilla ice cream or whip cream.
Have you ever made a Brown Betty before? What fruit did you use?
Latest posts by RecipeLion
(see all)