Print This Post
Frosty the Snowman was a jolly happy soul. It's no wonder then that he's become one of our favorite figures to model Christmas dessert recipes off of!
Before we begin telling you about how much we love snowman desserts, here's a song that we think will really get you into the snowman spirit. Warning: It'll probably be stuck in your head for the rest of the day. 🙂
When you stop and think about it, there are only a select few fun holiday figures whose likenesses seem to appear everywhere. There's (of course)
Santa Claus
,
Rudolph the Red-Nosed Reindeer
, Christmas angels, and snowmen. Snowmen, most notably Frosty, are just so cheery-looking, not to mention classy. With their pipes and top hats, they just look so sharp! Plus, out of all of the most popular holiday season figures, snowmen are the easiest to draw or recreate. No matter what you do to them, they always turn out looking like snowmen (which is important to people like us who have limited drawing and decorating skills)!
While they may be a reminder of how frigid cold it is outside, they're also a reminder of happy childhood memories and child-like wonder. After all, who didn't build a snowman as a child in hopes that it would come alive and play with you? That was the dream. (Or, well, at least it was for us…)
For these reasons and so many more, we can't ever seem to get enough of sweet snow man desserts. They make for quick and easy Christmas recipes, not to mention delicious treats for the whole winter in general. (Besides, snowmen are totally making a comeback lately [not that they ever really left], thanks to the short ditty from Frozen, "Do You Want to Build a Snowman?")
Below are some of our all-time favorite snowman desserts. Or, well, snow-related desserts. The bottom three aren't specifically snowman desserts, but they're definitely worth checking out! We pretty much guarantee that you won't be able to get enough of these cute treats; in fact, you may just seek out reasons to make them all year round.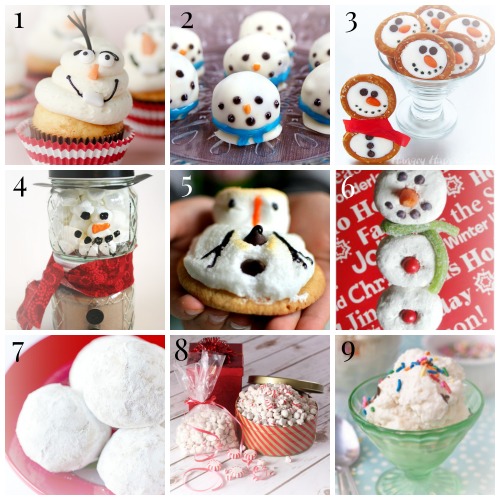 1.
Adorable Frozen Olaf Cupcakes
–
Frozen
fans will love these!
2.
Smiling Snowman Oreo Balls
3.
Festive Frosty Snowman Pretzels
4.
Cozy Canned Cocoa Snowman
5.
Adorable Melted Snowman Cookies
– Super cute, right?
6.
Edible Snowman on a Stick
7.
North Pole Snowball Cookies
– A Christmas cookie staple in our household!
8.
How to Make Snowman Poop in Your Slow Cooker
9.
"Let It Snow" Holiday Treat
– Calls for REAL snow!
Which of these snowman desserts is your favorite?
TheBestDessertRecipes is dedicated to the best dessert recipes and baking tips. From easy cookie recipes to recipes with cake mix, we find and deliver the best desserts from all over the web. Plus, we feature free product reviews and giveaways of all the latest and greatest products including baking gadgets, cookbooks, food, and more. TheBestDessertRecipes is a wonderful online resource for bakers and dessert enthusiasts of all skill levels.
Latest posts by TheBestDessertRecipes (see all)
Print This Post