Deli salads are great for the spring and summer. They're versatile, light, and refreshing. But sometimes you just want more. Yes, a cold salad may be nice on a warm day, but you can't beat a warm, hearty meal. That's why AllFreeCasseroleRecipes introduces you to your new favorite food: HOT salads.
Hot salads are the best of both worlds. You can feel (slightly) healthier eating a lighter meal, yet you'll still feel satisfied by how filling these hot salads are. Many of these are new versions of recipes for traditional deli salads. Think chicken salad, taco salad, or potato salad. Even if you're not a fan of cold salads, you'll like these.
These fusions between salads and casseroles would be excellent choices to bring to a potluck, party, or even a picnic. They would also be good for lunches, side dishes, light dinners, snacks, appetizers, etc. The possibilities are endless with these delicious hot salads.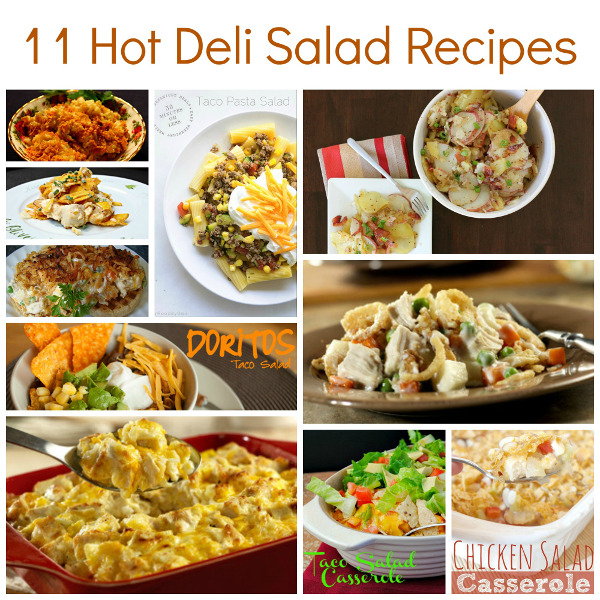 11 Hot Deli Salad Recipes
1. Cheddar Chicken Salad Casserole – Chicken, hard-boiled eggs, rice, and Cheddar cheese. What more could you want?
2. Easy Hot Chicken Salad Casserole – Traditional chicken salad gets a facelift with help from celery, red peppers, cornflakes, almonds, onions and mozzarella cheese.
3. Hot Chicken and Potato Salad Casserole – A unique combination of creamy potatoes, chicken, and more.
4. Hot Chicken Salad and Waffles – If you think this is weird, think again. You'll love hot chicken salad with French-fried onions served over waffles.
5. Hot Chicken Salad Casserole from Sweet Tea and Cornbread – A delicious blend of chicken, rice, sauce, and a cornflake topping.
6. Rotisserie Chicken Salad Casserole from Fit Moms & Full Plates – Chicken, almonds, onions, and plantain or potato chips make this a mix of creamy and crunchy.
7. Copycat Doritos Taco Salad – Cook ground beef, beans, cheese, veggies, and Doritos tortilla chips together and you've got a warm taco salad!
8. Taco Salad Casserole from You Made That? – All of your favorite taco toppings come together in one delicious casserole.
9. Taco Pasta Salad from Real Food by Dad – Ground beef and flavorful taco fixings are combined with pasta for a creative 30-minute meal.
10. German Potato Salad Casserole – This casserole is loaded with potatoes, bacon, and cheese and covered in a decadent cream sauce.
11. Gluten-Free German Potato Salad – This gluten-free option doesn't skimp on taste and delivers a traditional warm potato salad, complete with bacon and seasonings.
What is your favorite type of deli salad?
Latest posts by AllFreeCasseroleRecipes
(see all)