We've arrived at that time of year that many of us love and hate at the same time: holiday season.  During December there are countless Christmas parties, cookie exchanges, family dinners and a ton of other food-related events where we get to eat delicious, delicious treats, but then subsequently we feel bad for stuffing ourselves silly.  We've all been there; we've all felt that guilt.
Well, I'm excited to tell you that this week's RecipeLion giveaway is the perfect way to counteract those holiday snacks and sweets.  This week we're giving away a prize pack of Freshlike canned vegetables to four lucky winners.  Freshlike offers a huge variety of canned vegetables ranging from corn, green beans and spinach to peas, carrots and beets.  And just like you'd guess from their brand name, these canned veggies all taste really fresh.  They're packed immediately after they're picked on the farm, so unlike some other canned vegetables, the produce from Freshlike is great tasting and high quality.  Enter the contest here for your chance to take home some of these yummy vegetables!
And since we're talking veggies, I thought I'd share one of my favorite vegetable-based soup recipes with you.  This Ultra Creamy Spinach Soup is made with Freshlike canned spinach, so it's super easy to make.  Just a quick 15 minutes of prep time and another 15 minutes cooking and you'll have yourself a delicious, rich and creamy spinach soup.  It's one of my favorite wintertime dishes and I'm pretty sure once you try it, it'll be one of yours too!  Get the easy soup recipe here.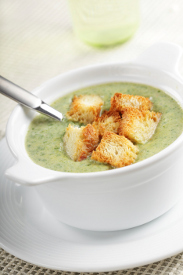 Latest posts by RecipeLion
(see all)