Do you ever have times where you just feel like being fancy?  I know I do!  Now I'm not talking about putting on pearls and high heels and strutting around the house.  No, instead when I'm feeling fancy, I like to make elegant and sophisticated home-cooked dishes like these Appetizer Tortilla Pinwheels or these Chicken Salad Stuffed Tomatoes (pictured below)… or even these Apple Fig Stuffed Chicken Breasts (also pictured below).  Now that's my idea of fancy!
Because I love feeling and acting fancy on occasion, I absolutely fell in love when I discovered the glass straws from Glass Dharma.  Yes, you read that right!  These "fancy" straws are made from glass and look oh-so-elegant when placed in your water glass.  Best of all, these straws are reusable so they're good for the environment too!  Lucky for you, we're hosting a giveaway and you have the chance to win a $25 gift certificate to Glass Dharma, redeemable for the glass straws of your choice.  They have all sorts of designs to choose from, so you can pick your own style of fancy!  Find out how to enter to win here.
See… aren't they pretty?!
These straws are great for families because each person can have their own unique straw with a different colored bauble.  Or use them for dinner parties and give each guest a fancy straw of their choice, perfect for keeping track of whose drink is whose.  There are so many wonderful uses for these straws, which is why you should enter our Glass Dharma glass straw giveaway today!
To keep you sipping in style, I've found a few of my favorite fancy drink recipes that would be perfect to enjoy while using one of these beautiful glass straws.  Go ahead and get fancy with one of these sophisticated beverages!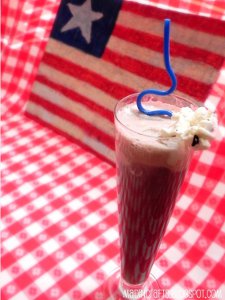 Old-Fashioned Chocolate Mint Soda (pictured above)
Latest posts by RecipeLion
(see all)