They may have a funny sounding name, but when it comes to taste, Goo Goo Clusters are seriously good.  Never had a Goo Goo before?  Let me explain.
Goo Goo Clusters have been around for the good part of the last 100 years.  Originating in the South (Nashville, Tennessee, to be exact), these heavenly confections were first dreamed up way back in 1912.  In fact, they were the first candy bar mass-produced consisting of more than one principal ingredient.  That means that they're the ones responsible for combining all of the best ingredients, flavors and textures into one ultimate candy bar.  In the case of Goo Goo, that's milk chocolate, caramel, peanuts and marshmallow nougat all in one chewy, gooey circular treat.  There really isn't anything quite like a Goo Goo.
Now that I've sufficiently tempted you talking about the deliciousness of Goo Goo Clusters, you probably want to know where you can get your hands on these awesome chocolate treats, right?  Well, Goo Goo Clusters can be found at several retail chains including Cracker Barrel Old Country Store, Hobby Lobby, Tractor Supply and Dollar General Stores, as well as many Tennessee and Kentucky Kroger Grocery Stores.  They're also available for sale online.  But today we have a special treat for you; we're offering a Goo Goo Cluster prize pack as our latest RecipeLion giveaway.  All you have to do for your chance to win is enter your information here.
The lucky winner of our Goo Goo Cluster prize pack will receive the following, valued at $50:
One 3-pack box of Original Goo Goo Clusters
One 3-pack box of Supreme Goo Goo Clusters
One 3-pack box of Peanut Butter Goo Goo Clusters
1 Goo Goo Cluster Tumbler
1 Goo Goo Cluster T-shirt (choice of male, female or unisex)
Enter today for your chance to win this incredible prize pack!
And that's not all!  We have one more special surprise for you today.  We've found one of the most delicious, chocolaty treats you could ever imagine, and they're made with Peanut Butter Goo Goos!  We're sharing the recipe for these Peanut Butter Goo Goo Brownies on our site, so be sure to check them out.  Trust us, you've never had a brownie quite like this before…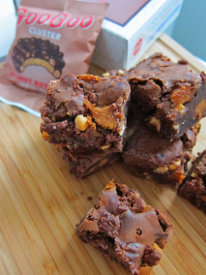 Have you ever had a Goo Goo Cluster before?  Tell us about it in the comments section below!
Latest posts by RecipeLion
(see all)