Over the years, I've gotten a little lax about drinking my milk. I just don't seem to love it as much anymore as I used to. I guess, over time, I found the taste of milk to be a bit bland and boring. I couldn't understand how some people could drink it as a dessert drink. Drinking milk just wasn't worth the effort of buying it at a grocery store and then wasting at least half of a gallon due to lack of interest. However, that all changed the other night when I came across Got Milk? Magic Straws.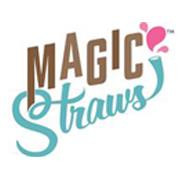 Got Milk? Magic Straws are (you guessed it!) plastic straws that you drink milk with. Yet, they are much more than that. Each straw is filled with flavor beads that add sweetness to your milk and disappear as you drink. The ends of each straw are crimped so you don't have to worry about the beads falling out. You may be worried that the crimped ends make the straws hard to drink from. I know I was the first time I tried them. Fear not, they keep the flavor beads in but let you drink your milk easily.
Now, you might be wondering what kind of flavors these straws can add to your milk. Well, there's quite a variety, including Chocolate, Strawberry, and Cookies & Cream. Everyone's sure to find a flavor they like. My personal favorite is the Cookies & Cream–flavored Magic Straw. It made my milk taste just like Cookies & Cream ice cream!
Trust me when I say that these make drinking milk so fun and delicious that I'm planning on drinking it a whole lot more often. They add a bit of extra flavor to each sip, transforming milk from boring to delightful in just a few seconds. Still don't believe me? Then try the Got Milk? Magic Straws for yourself!

For TheBestDessertRecipes.com's first-ever giveaway, five lucky winners will receive a canister full of Got Milk? Magic Straws and a few special offers. Each canister has a variety of milk straws for you to try.
So what are you waiting for? You're definitely going to want to win these Got Milk? Magic Straws.

Make sure to enter this giveaway before September 22nd to win!
Latest posts by TheBestDessertRecipes
(see all)