I don't know about you, but two of my biggest pet peeves when it comes to preparing food are 1) peeling and chopping garlic and 2) peeling and dicing potatoes.  Both tasks are just so time consuming, boring and most of all, difficult for my little stubby fingers!  That's why I was so pumped when I found out about two cool kitchen gadgets offered by The Joie Shop. Their inventive tools for chopping garlic and cutting potatoes (the Garlic Chopper and French Fry Cutter, respectively) are exactly what I need to make my dinner prep easy and not the dread-worthy event it currently is.
Lucky for all of you loyal blog readers, this week as our RecipeLion giveaway contest, we're offering three people the chance to take home a set of these awesome kitchen gadgets for free!  If you want to make your life a whole lot easier in the kitchen, be sure to sign up for this contest.  The Garlic Chopper will ensure that your fingers are never tainted with that awful lingering garlic smell again and the French Fry Cutter will make it so incredibly easy to make homemade French fries that you'll be serving them as a side for every meal!  Don't believe me?  Check out this review and see what these gadgets are like in action!
Want the perfect dish to make with these neat kitchen appliances?  I think I've found just the thing, and I can't wait to put these Joie kitchen tools to use making a delicious batch of these ultra garlic-y fries. Yum!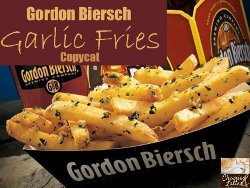 Happy chopping, slicing and dicing… and most of all eating!  Don't forget to sign up for your chance to win…
Latest posts by RecipeLion
(see all)