I love kitchen products that can accomplish more than one task. I multitask in my kitchen, so my kitchen tools should, too. This is why I'm happy that AllFreeCasseroleRecipes is giving away 2 measuring colanders from Chef's Planet. These colanders can be used to wash, drain, and measure fruits, veggies, and beans. What a great combination! Keep reading to find out more about this product and how you can win two of them.
What You Get:
Three winners will each receive a 2-cup and a 3-cup measuring colander from Chef's Planet. This particular colander has many functions. First, it can wash and drain fruits, veggies, and beans in one simple step. Just put the desired amount of food in the colander, stick under a running faucet, and there ya go! The measuring aspect comes in handy when you're using the food in a recipe. For instance, if you are making a blackberry cobbler recipe, just measure out the desired amount of berries by filling the colander to the correct measuring mark. Using only one product to accomplish these tasks makes one less thing for you to wash later on.
Additionally, the colander comes with a built-in tuna can drainer, which works on both traditional and pull tab tuna cans.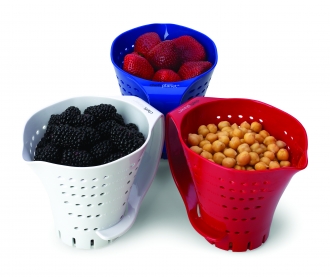 How to Enter:
Visit the giveaway page to learn how to enter the Chef's Planet Measuring Colanders Giveaway. You can enter once everyday and earn bonus entries by sharing the contest on social media sites. You have until June 15, 2013 to enter. Good luck!
More About Chef's Planet:
Chef's Planet, founded in 2002, is a housewares manufacturing company which makes innovative and practical products for the kitchen. Their other products include Preptaxi Food Scoops, Preptaxi Measuring Scoops, Better Spatula, Mesh Crisper, Ovenglove, and more.
Reviews:
"I found these measuring colanders very easy to use. I was able to fill my colander with strawberries, put it under the sink, and have washed and drained fruit ready to eat! Before this product, I had to put my fruit in a bulky spaghetti strainer before I could eat them. And if I needed to measure the fruit, I had to transfer the fruit into a measuring cup. I like using this colander better."
"I make tuna noodle casseroles often, so this [built-in tuna drainer] is going to really come in handy."
Latest posts by AllFreeCasseroleRecipes
(see all)