If you would have asked me yesterday what the best sandwich spread in the world is, I would have answered "peanut butter" without a second of hesitation. Rich and creamy, peanut butter is one of those things I could eat straight off the spoon… I love it that much.  But that was before I discovered the delicious flavored peanut butters from Peanut Butter and Co.  Just when I thought peanut butter couldn't get any tastier, along come the amazing peanut butter varieties from Peanut Butter & Co… flavors like Cinnamon Raisin Swirl and Dark Chocolate Dreams. Talk about delicious!
This week for RecipeLion's giveaway contest, we're offering a prize package of these wonderful flavored peanut butters to one very lucky winner.  For your chance to win 5 jars of peanut butter including flavors like Cinnamon Raisin Swirl and White Chocolate Wonderful, just enter our giveaway contest right here!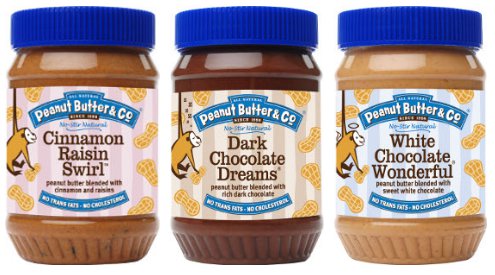 Don't just take my word for it. Find out what our team of reviewers had to say about the peanut butter flavors from Peanut Butter & Co.  Our review page will tell you everything you need to know about these peanut butter concoctions.
Now, if you're as crazy for peanut butter as I am, you're also not going to want to miss these 4 awesome peanut butter dessert bars that are some of my all-time favorite treats to make.  No matter which one you choose, you can't go wrong with a dessert recipe made using peanut butter!  Heck, I'd just say to go ahead and make them all because they're all so ridiculously good and worthy of a taste (or ten).  Let us know in the comments section below which peanut butter dessert bar recipe you'd try out first!
My 4 Favorite Peanut Butter Dessert Bars:
(in no particular order):
1) Granny's Beloved Peanut Butter Bars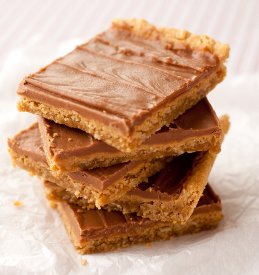 2) Easiest No Bake Peanut Butter Bars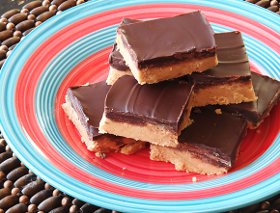 3) Better Than Anything Scotcheroos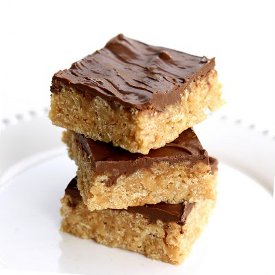 4)  Ma's Crunchy No-Bake Peanut Butter Bars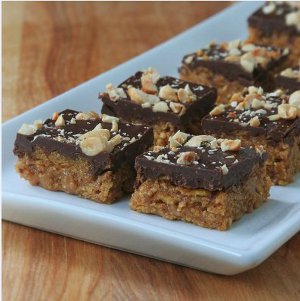 Latest posts by RecipeLion
(see all)