It's so hard not to love peanut butter. Whether you prefer it to be smooth and creamy or soft and chunky, peanut butter always seems to hit the spot. Plus, there are so many things you can do with it, beyond making the classic peanut butter and jelly sandwiches. For instance, you can swirl it with chocolate and/or Nutella to create a sweet and slightly salty flavor combination, bake it into cookies and other desserts, or eat it with ripe bananas. These are just a few of our favorite ways to enjoy peanut butter. Whether you enjoy it during a meal, as a snack, or for dessert, peanut butter has such a satisfying and comforting quality about it that no other food can match.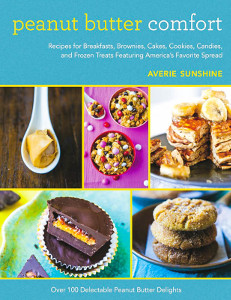 If you enjoy peanut butter as much as we do, you're going to love AllFreeCopycatRecipes's newest giveaway opportunity. We're giving away a copy of Averie Sunshine's Peanut Butter Comfort: Recipes for Breakfasts, Brownies, Cakes, Cookies, Candies, and Frozen Treats Featuring America's Favorite Spread cookbook to one lucky winner. This cookbook is full of wonderful recipes that are peanut butter-flavored or that just have small hints of peanut butter. Whether you're looking to whip up a tasty peanut butter dessert recipe or just an easy treat to snack on, this cookbook has a wide variety of recipes for you to choose from.

There are even recipes for homemade peanut butter! You can make your own peanut butter at home and then, if you'd like, customize it with different flavors like cherry or candy bar! Just think of all of the possibilities and all of the recipes you could make with flavored peanut butter.
Personally, we can't wait to try Averie's recipe for Caramel Apple White Chocolate Chip Bars. They look so gooey and delicious. Best of all, they only take five simple steps to prepare. If you're the lucky winner, you should definitely check out that recipe. It looks like it would be perfect for fall.
For more information about Averie's Peanut Butter Comfort cookbook, make sure to check out our review. Click here to enter to win this cookbook.

This 'Peanut Butter Comfort' giveaway will be running from now until September 22nd, so make sure to get your entries in as soon as possible!
Latest posts by AllFreeCopycatRecipes
(see all)