I'll admit it: I have a love-hate relationship with popcorn. On the one hand, I love its salty flavor and crisp, crunchy texture and I love popping handful after handful into my mouth while watching a movie with my family. On the other hand, though, I hate the taste that comes along with bags of microwavable popcorn. It doesn't taste nearly as fresh or natural as popcorn popped from scratch. But who has time for that? Enter Quinn Popcorn. This popcorn really is the best of both worlds. It has the convenience of being microwavable but none of that gross chemical-y taste. And now, with the latest giveaway from RecipeLion, you have a chance to win a variety pack of this awesome organic popcorn and try it for yourself!
The worst thing about Quinn Popcorn is that it's impossible to choose between their three amazing flavors of popcorn.  First there's Parmesan & Rosemary, which is a delicious blend of cheese and herbs. Then there's the Vermont Maple & Sea Salt, sort of like kettle corn but awesome in its own right. If you like your popcorn sweet, this one's for you!  Then last but certainly not least there's the Lemon & Sea Salt variety, which at first sounds sort of strange for a popcorn flavor, but once you taste this wonderful blend of buttery and citrus flavors, you'll wonder why you never thought to pair lemon and popcorn before!  Since we know how tough it can be to choose from these three great popcorn flavors, we've decided to give away a variety pack with one box of each to five lucky winners. Enter today for your chance to take home all three flavors of Quinn Popcorn.
While we're talking about deliciously flavored popcorn, I thought I'd share a few of my favorite ways to make your own seasoned popcorn at home.  If you don't have time to get to the store and purchase some Quinn Popcorn, these easy popcorn recipes are the next best thing.
4 Ways to Make Popcorn at Home
1) Apples 'n Cinnamon Popcorn (shown below) – A sweet alternative to traditional popcorn.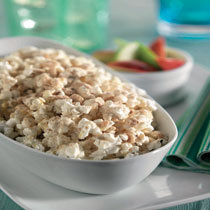 2)  Awesome Caramel Corn – Brown sugar and corn syrup make this popcorn awesomely sweet!
3)  Onion Garlic Popcorn – An addictive flavor combination. Just don't go kissing anyone after you eat this snack!
4)  Wacky Jello Popcorn – A unique baked snack that will have everyone talking.
Now go ahead and go pop in a movie and cozy up with a big bowl of one of these delicious popcorn varieties.  Or, better yet, enter our contest and you can win some for free!
Latest posts by RecipeLion
(see all)