Do you know the muffin man, the muffin man, the muffin man?  We're all familiar with the line from that classic nursery rhyme from our childhood days.  But let me ask you… do you know your muffin PAN?  Making dinner dishes in muffin tins, yes those pans that are typically reserved for baking muffins and cupcakes, is quickly becoming the new hot food trend. Have you tried it yet?  It's super easy and there are so many awesome bite-sized meals you can make!  Check out these 18 Easy Recipes in a Muffin Tin for starters.  Trust me, this is one food trend you want to get on board with!
This week RecipeLion has partnered with Abram's Books and we are giving away a hot-off-the-press cookbook all about this new kitchen fad. Four lucky winners will take home a hardback copy of Savory Bites: Meals You Can Make In Your Cupcake Pan by Hollis Wilder, the first two-time winner of the TV show Cupcake Wars. Find out more about this cool, creative new cookbook here and then enter the giveaway contest here for your chance to be one of our lucky winners to add this cookbook to their collection!

I've been a fan of muffin tin recipes for a little while now, so I've had some time to poke around and find some favorite dishes. Here are the "savory bites" I think you simply must try if you're looking to give the muffin tin trend a shot. They're easy, delicious and so fun to make.  Bust out that muffin tin and see what surprises you can cook up inside those cups!
My Favorite Muffin Tin Meals: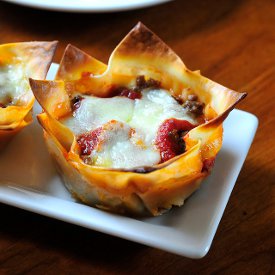 Which of these muffin tin recipes looks the most delicious to you?  They all look pretty mouthwatering to me!
If you liked the look and sound of these bite-sized meals, you're going to love the Savory Bites cookbook, so don't forget to enter the giveaway.
Latest posts by RecipeLion
(see all)