What started as a local restaurant that played up its beach-side California feel is now a large company that delivers its amazing gluten free products to grocery stores near you. Known for their amazing waffles, Van's Natural Foods is now taking on the snacking world by introducing their brand new crackers and snack bars. They've also expanded on their gluten free breakfast food options by creating their own cereal. You can try out all three of their new types of products by entering FaveGlutenFreeRecipe's giveaway for Van's coupons.
Van's Natural Foods snacks and cereal are certified gluten free. The company created their own gluten free whole grain blend that includes oats, millet and quinoa so you can rest assured that you are not only getting delicious snacks but snacks that are also good for you. The crackers are light and crispy, perfect for snacking by the handful and dipping in hummus or topping with cheese. The snack bars are chewy and flavorful; they make a perfect 3 o'clock snack to help you power through the tail-end of your workday. Start you day on the right foot with their amazingly tasty cereal, and you are guaranteed to have a brighter morning.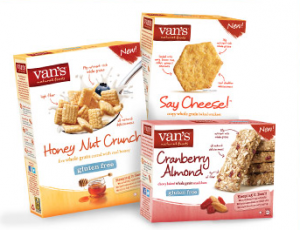 Van's works hard to guarantee their food meets the highest of standards. They make their products in small batches to guarantee quality so you never have to think twice about what you're buying when you put a box of their crackers, cereal, or snack bars in your shopping cart.
Looking for something to snack on right now?
Try one of these great gluten-free snack recipes:
Garlic and Parmesan Kale Chips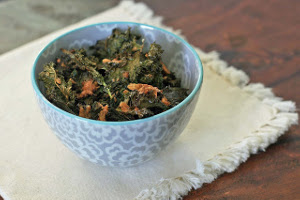 Everyone has those moment of weakness when suddenly the entire bag of chips has disappeared into your stomach. This healthy gluten free recipe from Girl Cooks World for Garlic and Parmesan Kale Chips is a solution to the ever so familiar disappearing act.
No Bake Granola Bites
If you need something small and quick that's sure to give you lots of energy, try out these No Bake Granola Bites from Good Things Grow. The small size makes them easy to carry and perfect for quick snacking.
Homemade Cheez-It's

Finding gluten free kids snacks can lead to quite the scavenger hunt. With this homemade cracker recipe from Flip Cookbook, make Gluten Free Cheez-It's that will have you ready to pack a cheesy salty snack in any brown bag lunch.
What's your favorite snack food?
Latest posts by FaveGlutenFreeRecipes
(see all)