Let's be honest, no one wants to take a dish covered in unsightly tin foil or plastic wrap to a potluck or party. You want to make an entrance, and your food should too. AllFreeCasseroleRecipes has teemed up with Vonny to bring you a stylish and practical casserole carrier so that you and your food can arrive in style. This giveaway is perfect for the traveling cook because it keeps your food warm, prevents it from spilling, and gives you a convenient and eye-catching way to carry all your utensils.
What is Vonny?
Vonny products are designed specifically with you in mind! Their products range from tote bags and casserole carriers to diaper and gym bags. Vonny understands that busy lifestyles require bags that can move and travel with you without breaking. But, what they also understand is that no one wants to carry something that doesn't look nice. Each Vonny product is an interesting and stylish print or pattern that is sure to liven up your daily routine.
The giveaway:
This Vonny Casserole Carrier measures 9 x 13 inches and can carry large or small casseroles. The flowered pattern is both earthy and attractive. Plus, you won't have to worry about stains from spills. The fabric is laminated and will resist those runaway liquids and food pieces. The insulated carrier will keep your food warm, and provide you with an easy and accessible place to store your food's accessories.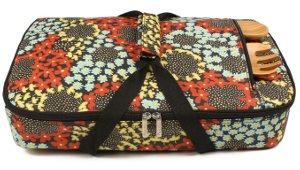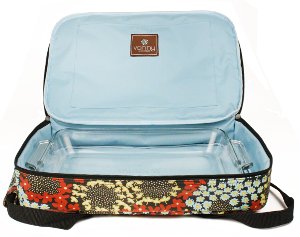 Latest posts by AllFreeCasseroleRecipes
(see all)