Print This Post
Gluten free bread recipes can be hard to pull off. If you've never made gluten free bread before, you may expect it to be much like the sort that has gluten in it. That's not exactly the case, as many gluten free bread recipes have their own unique taste and texture. It can be hard to narrow down the right recipe for whatever you'd like to eat.
Lucky for you, FaveGlutenFreeRecipes.com has gathered the best gluten free bread recipes we could find to take out some of the guesswork.
We admire Karina from Gluten-Free Goddess for her amazing gluten free bread recipes. She has an amazing collection with just about every type of bread you could want to make, from multi-grain sandwich bread to banana nut bread. If you're just getting started with gluten free bread recipes, we highly recommend browsing her recipes. She has great tips for beginners, as well.
Just because you're living gluten-free doesn't mean you have to live a breadless life! It doesn't mean you have to settle for hard, crunchy, or bland bread, either. Don't fear the un-bread – embrace it with our delicious gluten free bread options.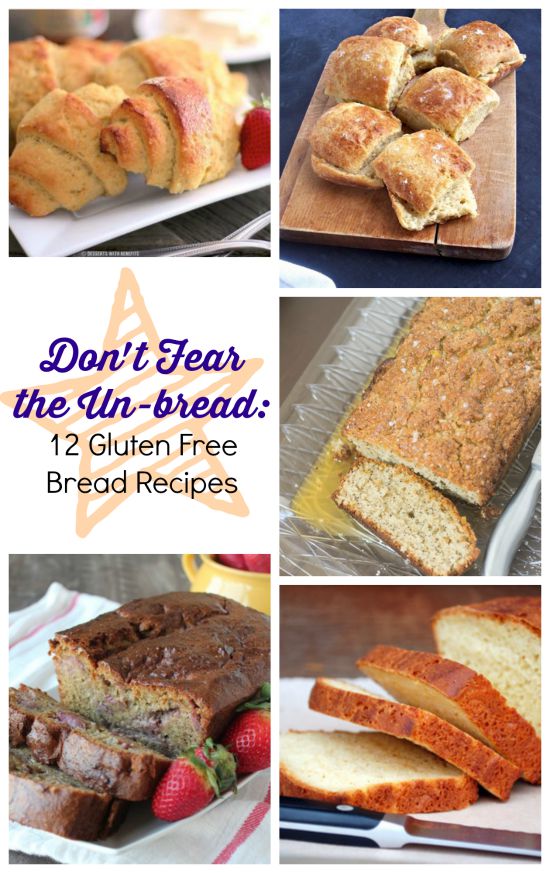 Don't Fear the Un-bread: 12 Gluten Free Bread Recipes
What's your favorite kind of bread? (Banana bread gets my vote.)
FaveGlutenFreeRecipes.com is your source for hundreds of free gluten free recipes, gluten free foods, and gluten free healthy recipes. We add new wheat free recipes and tips every day. You will find step-by-step instructions, videos, and recipes to make gluten free cooking quick and easy. Whether you have celiac disease or are just interested in learning more about a gluten free diet, we have something for everyone. From healthy gluten free breakfast recipes all the way to gluten free dessert recipes, we have gluten free cooking ideas for everyone and for every situation.
Latest posts by FaveGlutenFreeRecipes (see all)
Print This Post