I don't think I've ever baked something cuter in my entire life. These Mini Quiches are absolutely ADORABLE. But even better than that, they are so easy to make! With just a few ingredients and twenty minutes in the oven, you'll be able to whip up the most delicious little treats you've ever had for breakfast.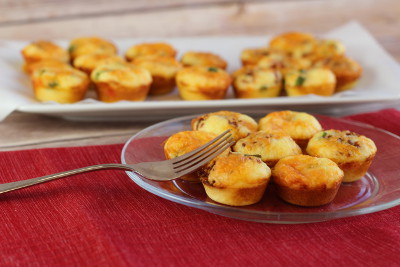 These mini quiches were made with gluten free Bisquick, red peppers, green onions, and bacon bits. I left bacon bits out of half of the quiches, so that my vegetarian friends could get in on the breakfast fun as well. It's so easy to customize these mini quiches: leave out the meat for the vegetarians, add in the cheese for the dairy lovers, and add in extra meat for the carnivores! It's a great breakfast recipe to whip up when you have a ton of leftovers sitting in your fridge. Just throw the leftover meat and veggies into these little muffins, and you're good to go!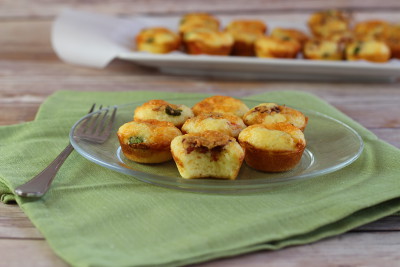 I'm planning on pulling this recipe out the next time I host brunch. I can make different quiches for all of my friends' preferences, and I'm sure everyone will go crazy over these cute little treats!
Here's What You'll Need:
3 eggs
1 1/2 cup milk
1 1/2 cup gluten free Bisquick
1/4 cup melted butter
1/4 teaspoon salt
dash of pepper
diced peppers (optional)
diced green onions (optional)
bacon bits (optional)
shredded cheese (optional)
And Here's How to Make Them:
Preheat oven to 375 degrees F. Spray mini muffin pan with cooking spray.
In a medium-sized mixing bowl, combine eggs, milk, gluten free Bisquick, butter, salt, and pepper. Whisk until blended well.
Spoon mini quiche mix into mini muffin tin. If desired, add extra fillings into cups, and top off muffins with shredded cheese.
Bake mini quiches for 20 minutes. They should be golden brown and fluffy in the center when done.
Latest posts by FaveGlutenFreeRecipes
(see all)