Print This Post
It's time to enjoy breakfast again! No more relying on granola bars and cereal to provide you with a full and healthy meal in the morning. Our brand new eCookbook, 15 Gluten Free Breakfast Recipes, has a wide range of gluten free recipes that are guaranteed to bring you a tasty and enjoyable morning. Prefer sweet breakfast meals? We've got them. Do you like to have some eggs to start off your day? We've got those recipes too. Or maybe you're looking for a nice dish to bring to brunch? Well, we've thought of that too! Our new eCookbook will cover all of your breakfast needs, from large to small. And did we mention that it's completely free?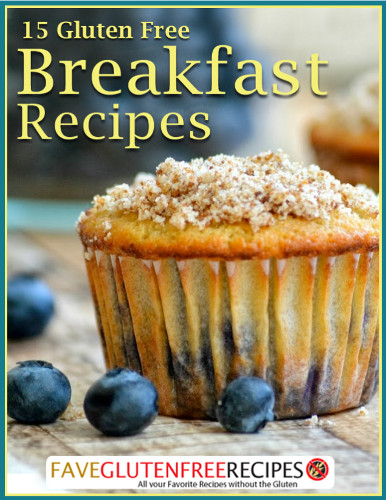 Here's a quick preview of what you'll find in this amazing new eCookbook:
Breakfast Casseroles and Bakes:
This is where you'll find the perfect brunch recipe. And even better, most of these recipes can be made the night before! The Berryilicious Overnight French Toast casserole (pg. 5) is guaranteed to be a hit with all of your family and friends.
Healthy Breakfast Recipes:
Start your morning off the right way with all of the nutrients and natural energy-boosts that your body needs. The Easy Fruit Nut Bars (pg. 11) are the best way to enjoy an on-the-go breakfast that is both healthy and delicious.
Bread and Muffin Recipes:
Sometimes, all you need is a piece of rich, moist, and filling bread to get a head start on the day. A slice of Apple Cinnamon Bread (pg. 17) is sure to give you the tasty start you need to get your morning going.
Sweet Breakfast Recipes:
Indulge that sweet tooth of yours with these sinfully sweet recipes. Our personal favorite? The Banana Nutella Crepes (pg. 26) – they are seriously out of this world!
Make sure to download your free copy of 15 Gluten Free Breakfast Recipes today. Your mornings will never be the same!
Do You Have a Favorite Gluten Free Breakfast Recipe?
FaveGlutenFreeRecipes.com is your source for hundreds of free gluten free recipes, gluten free foods, and gluten free healthy recipes. We add new wheat free recipes and tips every day. You will find step-by-step instructions, videos, and recipes to make gluten free cooking quick and easy. Whether you have celiac disease or are just interested in learning more about a gluten free diet, we have something for everyone. From healthy gluten free breakfast recipes all the way to gluten free dessert recipes, we have gluten free cooking ideas for everyone and for every situation.
Latest posts by FaveGlutenFreeRecipes (see all)
Print This Post