Deck the halls with boughs of holly, 'tis the season to be jolly!
It's also the season for delightfully sweet Christmas treats. But everyone and their brother brings Christmas cookies to the party. So, we're giving you a recipe that will blow all of those cookies right out of the water. We're proud to present: Gluten Free Christmas Crack!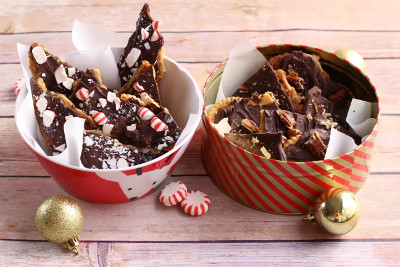 This addictive Christmas recipe is absolutely delicious, and so easy to make. The only hard decision will be how you choose to decorate it. With crushed peppermints? With broken pecans? You can honestly cover this festive treat with any sort of topping, and it will always be fabulous.
To make our Christmas Crack gluten free, we simply used gluten free crackers as the base of our recipe, instead of traditional Saltine crackers (suggested brand: Glutino). Add a layer of melted butter and brown sugar, and then a layer of melted chocolate to complete this easy toffee recipe. Some of my friends don't even bother putting toppings on – they simply gobble it all up before they have a chance!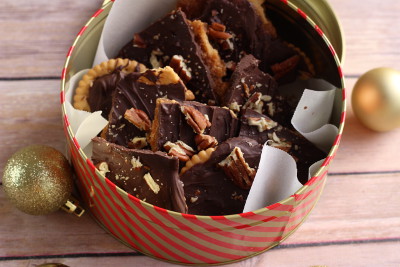 Christmas Crack is one of my favorite holiday recipes. It's beloved by everyone and perfectly encapsulates the holiday spirit. Enjoy, and Happy Holidays everyone! 🙂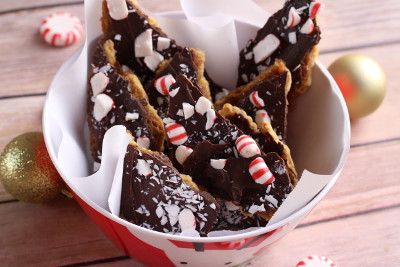 Here's What You'll Need:
1 box gluten free crackers (suggested: Glutino crackers)
1 cup unsalted butter
1 cup brown sugar
1 bag semi-sweet chocolate chips
crushed pecans (optional)
crushed peppermints (optional)
And Here's How to Make Them:
Preheat oven to 400 degrees F.
Line a 15 x 10 inch rimmed baking sheet with aluminum foil. Place crackers side-by-side on the sheet until the entire pan is covered.
Melt the butter and brown sugar in a saucepan over medium-high heat. Bring the melted butter and brown sugar to a boil and let it boil for 3 minutes. Pour the mixture evenly over the crackers. Note: the mixture will be difficult to spread, so spread it as quickly as you can before it hardens.
Bake for 7 minutes. While the crackers and caramel mixture are baking, melt the bag of chocolate. Note: melt the chocolate in a saucepan over medium high heat, or in the microwave at 50% power for 30 second intervals.
Spread the melted chocolate evenly over the crackers, and bake for 3 more minutes.
Remove the toffee from the oven. If desired, sprinkle crushed peppermint or crushed pecans over the toffee. Let cool in the refrigerator for at least 1 hour.
Remove from the refrigerator and break into small pieces. Enjoy!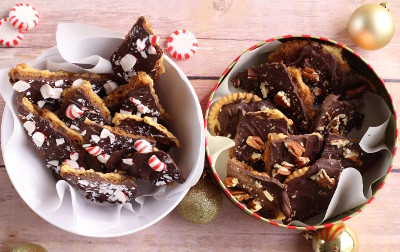 Latest posts by FaveGlutenFreeRecipes
(see all)