There's nothing better than waking up to the smell of Bisquick cinnamon rolls baking in the oven. It's the perfect way to start a lazy Sunday.
Surprise your family this weekend with a delicious brunch complete with this Bisquick cinnamon rolls recipe. They're super easy to make and your family is going to love them.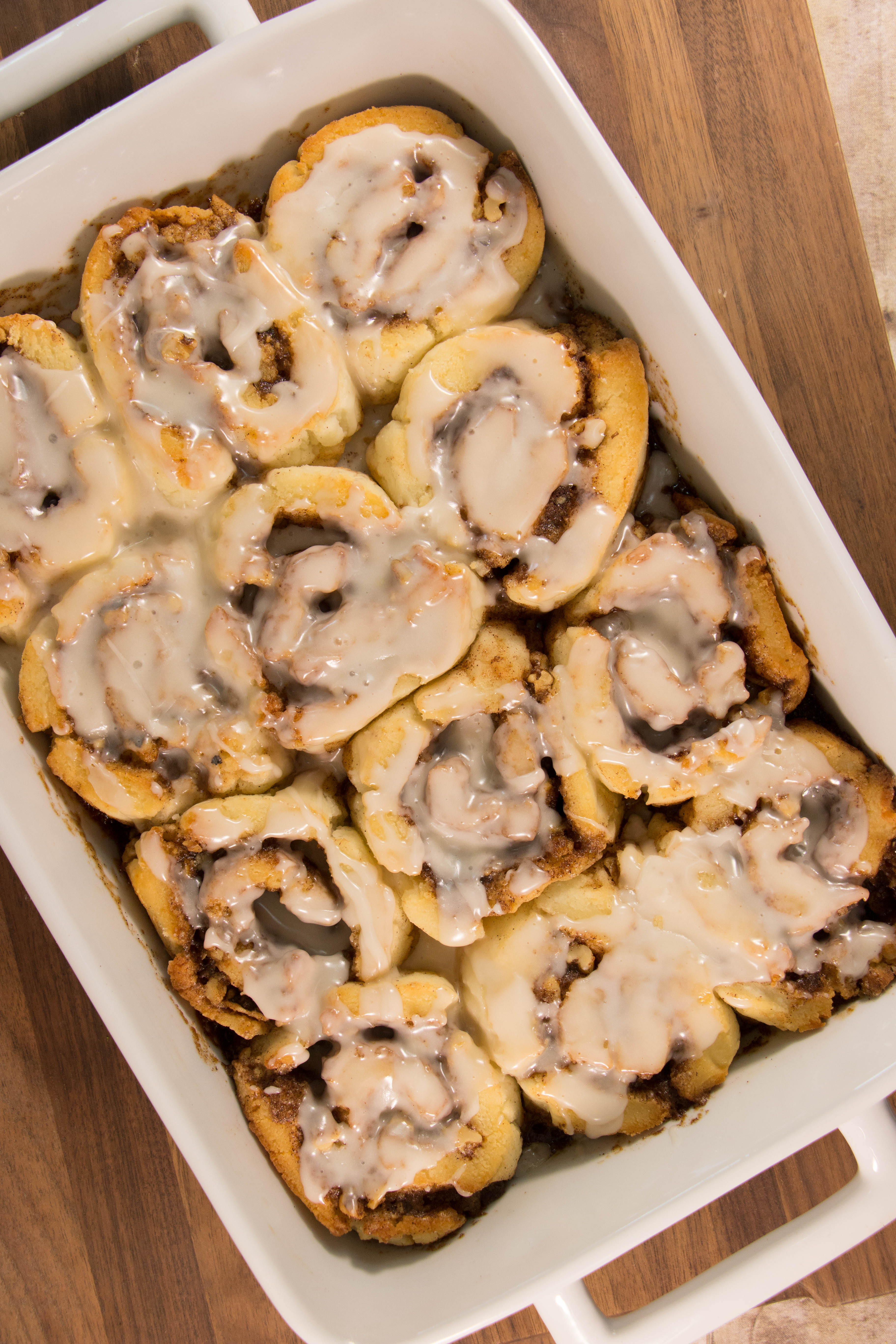 Bisquick makes this breakfast recipe a snap to throw together, so you don't even have to wake up extra early to make a big batch. If you're looking to make this breakfast gluten free, consider switching out regular Bisquick mix for Bisquick's gluten-free alternative.
Ingredients:
1 cup brown sugar
1 cup granulated sugar
1 tablespoon cinnamon
1 cup chopped walnuts
2 tablespoons butter, melted
4 cups Bisquick mix (regular or gluten free), plus 3 tablespoons for work surface (see note)
1 cup buttermilk
1 cup sugar
1 cup butter, melted
Frosting:
2 cups powdered sugar
2 tablespoons milk
1 teaspoon vanilla
Instructions:
Preheat oven to 375 degrees F and spray a 9 x 13 baking pan with cooking spray.
In a medium bowl, combine the two sugars with cinnamon, nuts, and 2 tablespoons melted butter. Mix with a fork and set aside.
In a large bowl, stir four cups of baking mix with buttermilk and sugar just until all dry mixture is incorporated. Do not overmix.
Lay a large sheet of aluminum foil on your work surface and sprinkle it evenly with the remaining baking mix. Turn dough out on top of the foil. Gently pull dough together, turning it two or three times to make a somewhat smooth ball then use fingers (or a rolling pin) and a pastry scraper to press it into a 9 x 13 x 1/2 inch rectangle with even edges.
Brush dough with the melted butter (1/2 cup) and sprinkle with the sugar/cinnamon mixture. With the long side toward you, begin to roll the dough into a fairly tight log, using the foil to help push it into an even shape. Cut the log into twelve 1-inch-wide slices and place them into the baking pan. Put the cut side down and fit them in with a bit of space between each.
Bake for about 30 minutes until lightly browned. Cool on a cooling rack for 10 minutes before adding the frosting.
For the frosting, place powdered sugar into a medium bowl and stir in milk and vanilla until completely smooth (see note). Spread frosting over rolls and let cool another 5 minutes to let frosting set before serving.
Notes:
To be sure the frosting is completely smooth, place powdered sugar into a sire sieve and shake into the mixing bowl to remove any lumps. Complete this before adding the milk and vanilla.
It is important to note that a 16-ounce box of Bisquick mix is not quite enough for this recipe. One box holds about 3 cups.
Have you made these bisquick cinnamon rolls before? Tell us about it!
Latest posts by FaveGlutenFreeRecipes
(see all)