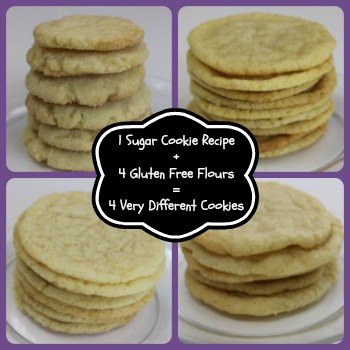 I never thought it would happen. I think I've reached my baking limit. Yesterday, I made over one hundred sugar cookies. "Why?" you ask. I was searching for the best gluten free flour.
Here's the experiment:
1 sugar cookie recipe
4 different gluten free all purpose flours
4 different batches of sugar cookies
Each batch was made exactly the same, except for the gluten free flour. I used four popular gluten free flours, and tested which batter was easiest to handle, which cookie looked most picture-worthy, and, most importantly, which cookie tasted the best.
I chose to make sugar cookies because I figured that these cookies wouldn't mask any of the gluten free flour flaws. Sugar cookies don't tend to be overpowering, and I wanted to see how the gluten free flour influenced the recipe.
Although I am currently baked-out, I'll probably be back in the kitchen in less than a week. But, you may not see any sugar cookies coming out of my kitchen for the next year or so. After forcing my family to rate each sugar cookie, they may take away my kitchen privileges if I make any more.
If you want the sugar cookie recipe that I used, click HERE!
1. King Arthur Gluten Free Multi-Purpose Flour
Batter: Good batter, easy to handle.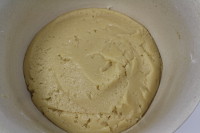 Cookies: These cookies kept a good shape, and they weren't too thin. My family thought they had a good taste, but some of my co-workers said they had a weird aftertaste. They mentioned the aftertaste was a bit starchy or grainy.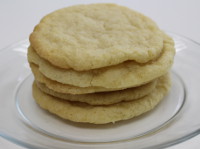 Reviews: My husband thought that out of all the cookies, the one made with King Arthur looked most like the soft, round cookies his mom used to make. He couldn't even tell the difference between this cookie and one made with all-purpose flour! He said that it was soft, just chewy enough, and deliciously sweet.
My daughter liked these sugar cookies the best. She thought they had the most classic sugar cookie taste.
2. Bob's Red Mill Gluten Free All Purpose Baking Flour
Batter: Dark batter, more watery than the others.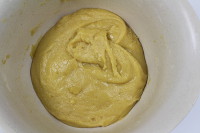 Cookies: These cookies spread very thin.  They have a buttery taste and are rather chewy. Half of my friends liked this cookie the best and the other half thought that this cookie had a weird taste. Almost everyone agreed that this batch of cookies did not taste like the traditional sugar cookie.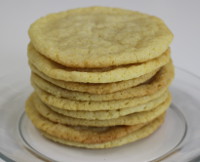 Reviews: My son said that these cookies were very buttery, and it had a slightly different flavor that he couldn't put his finger on.
My son's friend (which he's basically family since he eats most of our food) said that the cookie wasn't too sweet, and it was one of his favorites.
3. Cup4Cup Gluten Free Flour
Batter: The messiest and stickiest batter.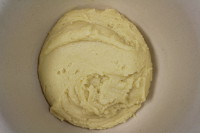 Cookies: This was the sweetest cookie. Softer and doughy-er than the others. Very good texture. Spreads thin.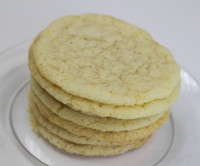 Reviews: My daughter said that these extra sugary cookies didn't taste gluten free.
My son said that this sweet and sugary cookie was really good. He thought it was the best tasting cookie of the bunch.
4. Better Batter Gluten Free Flour
Batter: The best (and thickest) batter out of the bunch. It was very easy to rolls this batter into balls.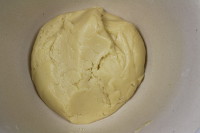 Cookies: These cookies were very fluffy. They hardly spread at all while baking. These cookies had a good texture and consistency, but not the best taste. These cookies were the most bland of the bunch. This flour would probably make a good bread.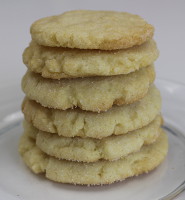 Reviews: My husband didn't hold back when he said that these cookies had a weird taste that was rice-y, and he felt that the cookies were rather boring.
My son's friend said that he liked how fluffy the cookie was and that it was a nice, cakey cookie. I'm not sure how much weight I'll put on his review because he's definitely not the pickiest. He'll eat anything that you offer him.
Final Results: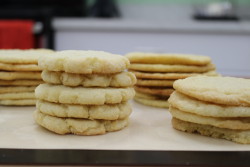 It was a tie between Cup4Cup Gluten Free Flour and King Arthur Gluten Free Multi-Purpose Flour, but I believe that Cup4Cup had a slight lead.
Bob's Red Mill Gluten Free All Purpose Baking Flour came in close third.
Better Batter Gluten Free Flour pulled up the rear.
Hopefully now you won't have to spend tons of your own money trying to find the best gluten free flour.  I can tell  you from experience, this flour project is definitely not the cheapest.  Gluten free flour is expensive!
Disclaimer: These flours will be useful for different purposes. So, while Cup4Cup rocked it in the sugar cookie test, you may find that it doesn't make the best pastries or breads.  You'll still have to experiment with your own recipes, but hopefully this post will help.
If you are looking for even more gluten free flour tips, then check out this handy Gluten Free Guide to All Purpose Flour.
So, what is your favorite gluten free flour to bake with?
Latest posts by FaveGlutenFreeRecipes
(see all)