If you're on a gluten free diet, this does not mean you have to deprive yourself of the tasty things in life. There are several recipes that will allow you to enjoy rich, delicious foods in a healthy, guilt-free way.
If you're looking for some tasty ideas to whip up in the kitchen, FaveHealthyRecipes.com created a list of 10 Gluten Free Desserts that taste just as good (if not better) than the original versions. We've featured different kinds of cakes, dessert bars, pies and cookies for you to indulge in. A lot of these recipes swap out some unhealthy ingredients (like butter) for something more nutritious (like applesauce), so you get the same comforting flavor in a healthier way.
10 Gluten Free Desserts
Applesauce Spiced Coffee Cake: Cake for breakfast? Why not? This treat is much healthier than your typical coffee cake, due to the addition of applesauce and Greek yogurt into the dough.
Luscious Lemon Bars (pictured above, left): These lemon bars are the perfect combination of sweet and tangy, and they're perfect to enjoy outside on a warm, sunny day.
Copycat Girl Scout Samoa Cookies: Did you ever think girl scout cookies were off-limits to you, because they're not gluten free? Well thanks to this recipe, you can enjoy these classic coconut cookies without worrying about dietary restrictions.
Grain Free Grasshopper Pie (pictured above, right): This chocolate mint pie is rich, creamy and packed with sweetness, without loading up on any unwanted calories.
Carrot Cake Muffins (pictured above, left): This delectable gluten free dessert from MealDiva is light, fluffy and guilt-free.
Healthy Pecan Almond Toffee: Thanks to a few quick ingredient swaps, this toffee is more nutritious but still maintains a rich, crunchy and chocolatey taste.
Gluten Free Icebox Cake (pictured above, right): This healthy, no-bake cake has only five total ingredients, and a melt-in-your-mouth taste.
Gluten Free Peanut Butter Cookies (pictured above, left): If you are a fan of thin and crisp peanut butter cookies, then you will absolutely love this gluten-free dessert. Instead of flour, this recipe uses a vanilla cake mix as its base.
Chocolate Covered Coconut Cupcakes: Greek yogurt replaces some of the fat in this delectable dessert, which makes these chocolatey cupcakes lighter, fluffier and healthier than usual.
Strawberry Cheesecake Bars (pictured above, right): This scrumptious gluten free dessert from Honey & Fig is not only creamy and delicious, but also packed with protein and calcium.
PLUS: Enter to Win an Informative Gluten-Intolerance Guidebook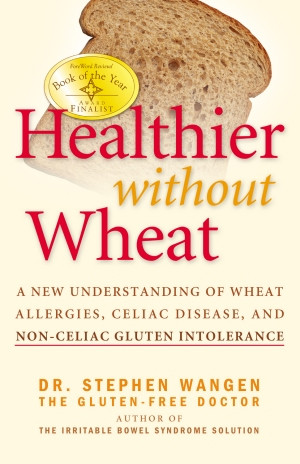 With so many different health problems related to gluten, it can be difficult and overwhelming trying to sort your specific problem on your own. We're giving away a copy of Healthier Without Wheat, a helpful guidebook by Dr. Stephen Wangen, which provides a great understanding of wheat allergies, celiac disease and non-celiac gluten intolerance.
The deadline to enter this contest is March 24, 2014 at 11:59:59 P.M. EST. Click here to read a full review and enter to win!
Do you have any favorite gluten-free desserts?
Latest posts by FaveHealthyRecipes
(see all)