Print This Post
Today, October 29th, is officially National Oatmeal Day. Who makes these decisions and concludes which food we honor on which day is beyond me. I'm just happy to have a reason to celebrate! Oatmeal is arguably one of the most nutritious meals to have for breakfast, and these delightful gluten free oatmeal recipes showcase how oatmeal can be eaten at any time of the day. And for those of you who associate oatmeal with a bowl of mush in your mind – it's time to change your tune. I will fully admit that I was once someone who gagged merely at the thought of oatmeal. But after trying my hand at these delicious recipes, I will never balk at oatmeal again.
From oatmeal cookies and muffins to overnight oatmeal recipes, this list has all of your oatmeal needs covered. Be sure to try out at least one of these recipes today, and get in the spirit of National Oatmeal Day!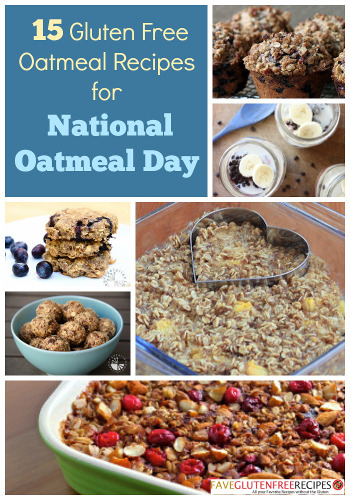 Classic Oatmeal Recipes
Mix up your usual morning routine with these fun and flavorful recipes. The Apple Pie Baked Oatmeal is a personal favorite of mine. Who doesn't love dessert for breakfast?
Overnight Oatmeal
This is easily one of the most ingenious recipe ideas you'll ever come across. Prepare your oatmeal the night before – it takes about 5 minutes – and then wake up and dig into a delicious meal! Try creating your own unique oatmeal flavors. Personally, I recommend the Banana Split Overnight Oats (pictured). It's the perfect way to eat healthy and still satisfy your sweet tooth.
Peanut Butter Cookie Dough Overnight Oats
Overnight Oatmeal in Mason Jars
Oatmeal Muffins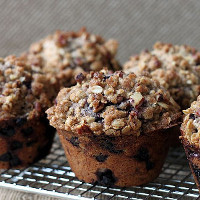 It's a muffin filled with blueberries and oats. Do I really have to say more?
Peanut Butter Filled Oatmeal Muffins
Oatmeal Cookies
Oatmeal Cookies remind me of Sunday afternoons at my parents' house. There is just something about a soft and chewy oatmeal cookie that brings to mind feelings of warmth and home. The Flourless Chocolate Chip Oatmeal Cookies are exceptionally tasty – and I love not having to buy gluten free flour to bake with!
Flourless Chocolate Chip Oatmeal Cookies
Blueberry Banana Breakfast Cookies
More Recipes to Love!
Check out more gluten free oatmeal recipes from these lovely and talented bloggers!
Pear Almond Steel Cut Baked Oatmeal by Danae from Recipe Runner
Quinoa + Oatmeal = Quinoatmeal?! by gomo from cHow Divine
FaveGlutenFreeRecipes.com is your source for hundreds of free gluten free recipes, gluten free foods, and gluten free healthy recipes. We add new wheat free recipes and tips every day. You will find step-by-step instructions, videos, and recipes to make gluten free cooking quick and easy. Whether you have celiac disease or are just interested in learning more about a gluten free diet, we have something for everyone. From healthy gluten free breakfast recipes all the way to gluten free dessert recipes, we have gluten free cooking ideas for everyone and for every situation.
Latest posts by FaveGlutenFreeRecipes (see all)
Print This Post