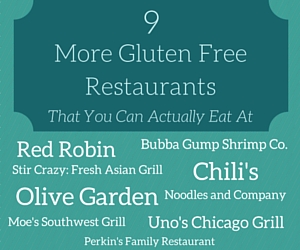 When you have dietary restrictions, eating out can be stressful. From not knowing if you'll find something on the menu that you can eat to cross-contamination, it's almost easier to just stay home. This list of restaurants will help narrow down which restaurants have gluten free menus to make your life just a little bit easier.
However, these restaurants aren't certified gluten free (meaning that they also cook food that contains gluten) so you will still want to make your server is aware of your food restrictions. Cross-contamination is a huge concern for gluten free foodies, but it will be hard for the wait staff to assist you if they don't know that you are gluten free! Be sure to ask about marinade ingredients too, sometimes those have sneaky gluten in them.
Next time that you are debating with your friends or significant other about where you should eat out, start with this list. These restaurants all have gluten free menu options (or entire gluten free menus–score!) but still offer plenty of "glutened" items for your dining companions. Everybody wins!
9 More Gluten Free Restaurants You Can Actually Eat At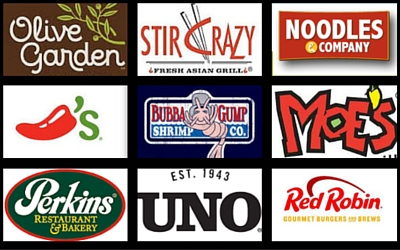 Olive Garden – They offer gluten free pasta, so almost any pasta dish is fair game. A few protein entrees are also gluten free.
Chili's – As one of my go-to restaurants, I was pleased to see how many gluten free options Chili's had. Personal recommendation: the Margarita Grilled Chicken is fantastic; simply order it without tortilla strips and you're good to go!
Perkin's Family Restaurant – The great thing about Perkin's is that they offer fresh fruit as a side for any meal which is, of course, gluten free.
Stir Crazy: Fresh Asian Grill – Stir Crazy has a make-your-own stir fry option (Fresh Market Bar), so as long as you choose a gluten free sauce, you'll be good to go.
Bubba Gump Shrimp Co. – A lot of their menus vary by location so be sure to ask about gluten free options, but most non-breaded fish entrees should be safe. Bubba Gumps does list each location's individual gluten free menu on their website, so take a look before you go!
Uno's Chicago Grill – As a Chicagoland native, I had to include at least one restaurant that paid homage to my favorite city. While you can't get their traditional deep dish, they do have a gluten free Chicago thin crust pizza, along with many other gluten free menu items.
Noodles and Company – Surprisingly, most of this menu is actually gluten free. If not, many menu items can be made gluten free with a single substitution or omission. They do express on their website that it's hard for them to eliminate all cross-contamination, so dine with caution.
Moe's Southwest Grill – Mexican food is super easy to make gluten free; usually a simple substitution of corn tortillas or chips for flour does the trick!
Red Robin – Calling all burger lovers! Red Robin offers a gluten free hamburger bun so you can enjoy carbs with your burger again.
For more information on gluten free dining, be sure to check out this guide on the Top 5 Tips For Eating Out Gluten Free. Also, keep a look out for these ingredients to avoid.
If a restaurant doesn't have a gluten free menu, these ingredients will help you determine what is safe to eat. And, if you haven't seen the original list of the Most Popular Gluten Free Restaurant Chains, you're missing out on seven more amazing gluten free restaurants!
Do you have any other favorite restaurants that have great gluten free options? Let us know in the comments!
Latest posts by FaveGlutenFreeRecipes
(see all)