On June 21st, it's officially summer. School's out, pools are open, and the sun feels hotter than ever. Large fans, possibly with misting devices attached, and air conditioning are great tools to keep you cool but nothing beats the chilling effect of the perfect summer drink recipe. There's nothing quite as refreshing as taking a sip of an icy cold beverage to cool your body down a bit. Plus, with so many different summer drink recipes that exist, you never have to sip on the same one twice (unless you want to, of course).
We here at FaveGlutenFreeRecipes.com want to help you beat the heat this summer with a few of our favorite summer drink recipes. From fruity drinks to coffee drinks and everything in between, we've got you covered. Best of all, even though these are gluten-free drinks, they're some of the most flavorful beverages you'll have all year. So sit back, relax, and sip on one of these delicious summer drink recipes.
Fruit Smoothie Recipes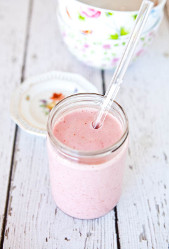 Pineapple and Cucumber Smoothie — Sweet pineapple and cool cucumber mix together to create a refreshing morning treat. Throw in some chia seeds and spinach for a little bit of added protein and you'll be good to go for the rest of the day.
Sweet and Creamy Strawberry Smoothie (pictured) — With a heaping handful of frozen strawberries and your cream of choice, there's no chance that you won't love this summer drink recipe. You can even drink half of the batch and freeze the rest for later.
Sweet Tang Smoothie — Sweet pineapple chunks and couple of tangy plums mixed together into one smoothie? What more could you possibly want? This drink is the perfect addition to a day of fun in the sun.
Cool Coffee Shop Drinks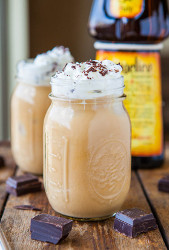 Healthy "Coffee-Chino" — Forget Starbucks! This "coffee-chino" is not only healthy and delicious, but also super affordable to make. By making this frozen coffee, you can skip your daily trip to the coffee shop and spend more time enjoying the weather instead.
Iced Coconut Chai Tea — Hints of coconut take a glass of spicy chai tea from "mmmm" to "YUM." It tastes so good that you'll forget that this refreshing summer drink recipe is good for you.
One Minute Boozy Iced Coffee (pictured) — One of the perks of making your own iced coffee at home is the ability to add a little bit of booze every once in a while. The hazelnut liqueur will give the coffee more flavor depth and help you to relax. It's a win-win.
Haven't found your perfect summer drink recipe yet? Here are a few more from both FaveGlutenFreeRecipes.com and two other bloggers that you're sure to love.
What's your favorite summer drink recipe?
Latest posts by FaveGlutenFreeRecipes
(see all)